Rusted Metal
Whitesnake - Slide It In
By: Frank Hill
Published: Sunday, June 20, 2004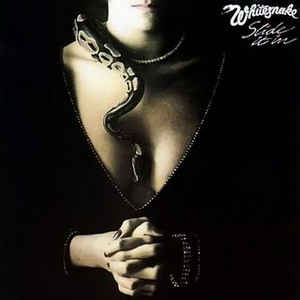 Before they hit it really big with the Tawny Kitean-slithering videos on MTV, Whitesnake's 1984 album "Slide It In" was getting some decent attention from classic rock stations, the ones with Led Zeppelin, the Who and Pink Floyd as their backbone. Vocalist David Coverdale, keyboardist John Lord, drummer Cozy Powell and John Sykes were capable members of bands like Deep Purple, Thin Lizzy and Rainbow. Coverdale used to get quite a bit of flak for his blues-rock delivery and image, but his barritone vocals are rich and supurb and shouldn't be discounted by those who simply called him a Robert Plant clone.
I think you can pretty much group each song into three sets:
Top-shelf classic rock:
--Slow An' Easy, Love Ain't Know Stranger
Solid Hook-leaden rockers:
--Slide it In, All or Nothing, Gambler, Guilty of Love, Give Me More Time, Standing In The Shadows
Throwaways:
--Hungry for Love, Spit it Out
The title track opens it up, setting the tone for most of the entire album lyrically and musically. Straight-forward rock riffs dominate of all the guitar work offering little innovation, but then again this has got to be the only album I know where EVERY song is about love or is filled with sexual innuendo. Look at the titles: Slide it In, Slow An' Easy, Spit it Out. Of course you have to remember, that this was in the era just before the hormone-fueled hair metal period and those bands were only expanding on what had just came before.
You gotta have some guilty pleasures in your music collection--a CD or two that makes people and even yourself wonder what it is that you see in it. "Slide It In" is lyrically set in Middle School, but is nontheless great, British, chick-fueled rock and roll.
Track Listing
1. Gambler
2. Slide It In
3. Standing In The Shadow
4. Give Me More Time
5. Love Ain't No Stranger
6. Slow An' Easy
7. Spit It Out
8. All Or Nothing
9. Hungry For Love
10. Guilty Of Love
[Other Maximum Metal Columns]
<< back >>