Road Reports
Michael Schenker Fest
Club Soda . Montreal, Quebec, Canada
By: Joanne Laroche
Show Date: 3/12/2018
Published: 3/23/2018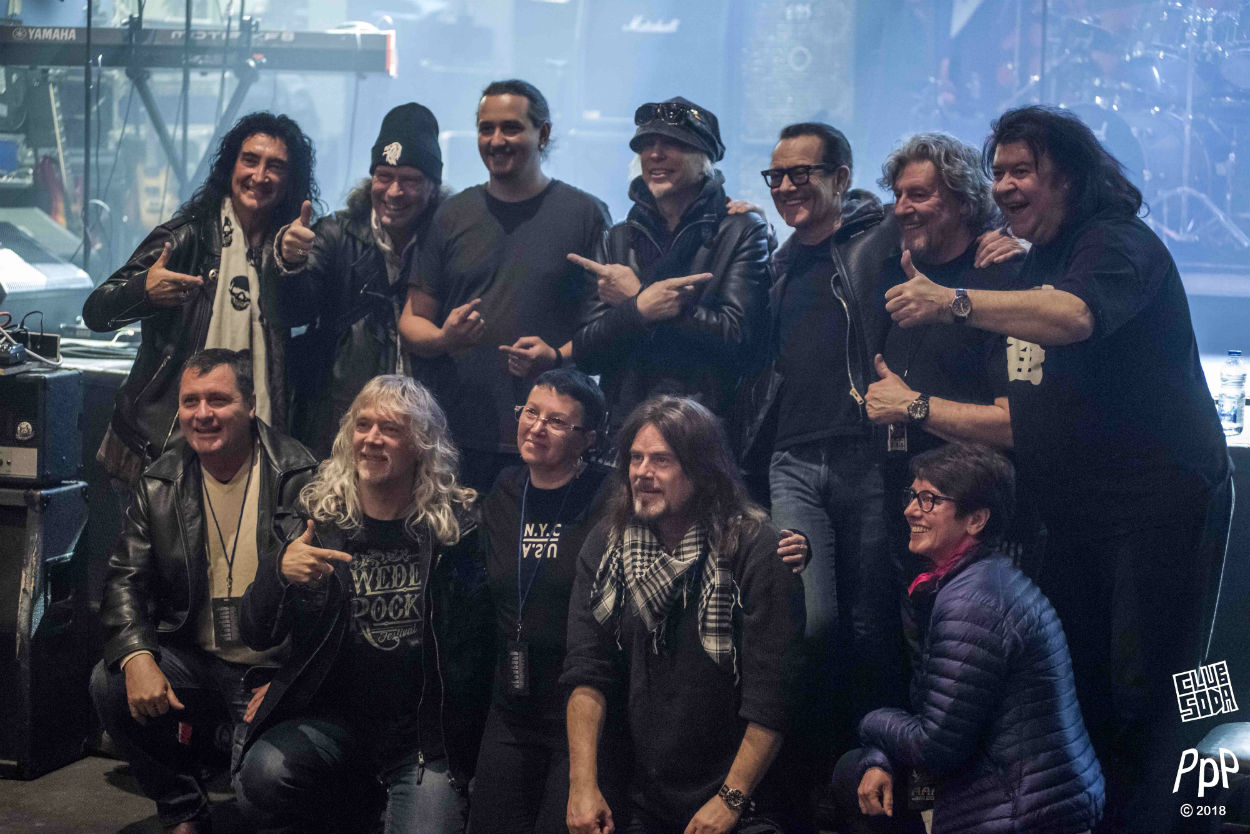 "In essence, it was the guitar riffs that lead everyone there, but with a twist of vocal mastery; the strong voices knocked us over."
When I heard that guitar virtuoso Michael Schenker was heading back on tour along with such powerhouse vocalists as Robin McAuley [MSG, Survivor], Gary Barden [MSG], Graham Bonnet [Rainbow, MSG) as well as Doogie White [Rainbow, Yngwie Malmsteen's Rising Force]. I wondered how exactly that would work during a show. That's quite the line-up of talented vocalists who have withstood the test of hard rock time. Well, to my amazement it kicked some major ass.
The venue was small and sweltering hot but it was packed with as many bodies as it was comfortable to be in. With most fans doing their best to get their coveted spot on stage left in front of Michael Schenker himself. The ratio of the genders was clearly male dominated and a generation spanning crowd. They were mostly longtime fans though, that have followed Schenker through his career and they were ready to rock until the lights went out.
Normally during a Michael Schenker concert, it is all about the guitar playing. It is the focal point and rightfully so. However, even if Michael Schenker Fest fans came for the guitars, what they got was some amazingly talented vocalists belting out some of the most renowned songs of Schenker's decades long career which played from an extensive catalog of songs featuring: UFO, Scorpions, MSG and some new classics from their newly released album called, "Resurrection." In essence, it was the guitar riffs that lead everyone there, but with a twist of vocal mastery; the strong voices knocked us over.
These were not special guest vocalists where one of them would come out to sing a song and disappear. They each sang several songs and spent a great deal of time on stage. The stage seemed a bit crowded with everyone up there at once, Schenker, the 4 singers, Ted McKenna on drums, Chris Glen on bass and Steve Mann on keyboards/guitar. It was very solidly arranged and while at times it did feel a bit like Raiding the Rock Vault in which Robin McAuley is known for in Las Vegas with these powerhouse vocalists doing a strange little awkward back up singers' dance, it was more comedic than serious and it was hard to hold that against them.
This was no standard 90 minute show; the concert lasted for close to 3 hours. It didn't stop, even with the multiple changes in singers or guitars. Michael Schenker was smiling widely from start to finish, interacting with the audience with his bright blue eyes. I believe he really is enjoying playing with his old mates from his past and has tapped into a new found energy.
The 30 song set list is a force to be reckoned with. "Doctor, Doctor" [UFO], "Vigilante Man," and "Save Yourself" [McAuley Schenker Group] seemed to be the real fan song favorites. Alongside instrumentals "Coast to Coast" [Scorpions] and "Captain Nemo." With several encore songs, they ended with "Lights out" which always seems pretty timely.
One negative for collectors of merchandise; their choices are limited to 4 different t-shirt styles and one set of guitar picks for sale. So if you were hoping for a pin, belt buckle or a cap with sunglasses on it to sport around the next day to tell the world where you've been, well they are not available at this stage of the tour--I hope they add more as the tour progresses.
Michael Schenker Fest brings a festival-like environment to the smallest of stages. It becomes a hard rock marathon and you won't even notice you were running and jumping and cheering through the whole thing. While it is a bit different than recent Michael Schenker tours, it is definitely memorable and if you get the chance do not pass up the opportunity to take part in it.
Check out our show gallery here:
Michael Schenker Fest Gallery
LINKS
MSF Website
Robin Mcauley Website
Graham Bonnet Band Website
Doogie White Website
Club Soda Website
[Other Maximum Metal Columns]
<< back >>