Road Reports
L.A. Guns / Red Sky Mary / Budderside
Tupelo Music Hall . Derry, New Hampshire, USA
By: Joanne Laroche
Show Date: 2/18/2018
Published: 3/16/2018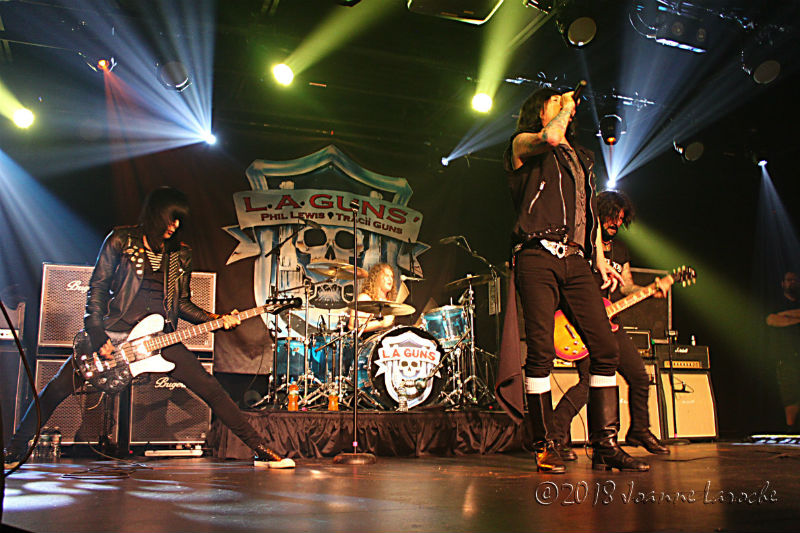 "The fans had a great time, the band was in great form and it was a great trip down memory lane"
When introducing L.A. Guns to the stage, the sold out crowd was told to stand up and within moments the band burst onto the stage with the song, "The Devil Made Me Do It." The energy could be felt immediately as they followed with "Electric Gypsy" and "No Mercy." It was a pretty intense song choice to start with and the audience enjoyed every minute of it. The generally mellow crowd was fist pumping and dancing/cheering/singing along.
They continued to play their singles as well as some lesser known tunes, including new material from their 2017 album, "The Missing Peace." While this tour is being marketed as a reunion tour of sorts, their backdrop specifically had the names Phil Lewis and Tracii Guns along with their logo.
There were some really good high energy moments where there was a connection between the audience and the band. The playing was superb and Phil Lewis sang his heart out. Throughout the set, the band members had plenty of eye contact with each other as well as the audience. They took a pause from the hard rock to play some non-L.A. Guns songs. In this case, it was guitarist Michael Grant who stepped up and did a stunning rendition of Prince's "Purple Rain." It was an amazing tribute start to finish, but I'm not sure if it translated to the crowd who were there to see an 80s glam/hair/rock band. They also teased us with the intro for AC/DC's Hell's Bells before ripping into one of their most popular tunes, "Never Enough."
At times the concert did feel a bit "forced" into a retro look/feel in the overall presentation. It was definitely Hollywood, but we should expect no less from a band called L.A. Guns. With so many of their hits being played; which included "Sex Action," "One More Reason," and the very powerful and popular slow tune, "The Ballad of Jayne."
The fans had a great time, the band was in great form and it was a great trip down memory lane. Overall a solid rock show with some excellent playing and all the attitude of the 80s. Well worth seeing if you get the chance.
Check out our show gallery here:
L.A. Guns Gallery
LINKS
L.A. GUNS W/Tracii Guns And Phil Lewis Official
L.A. GUNS Facebook
[Other Maximum Metal Columns]
<< back >>