Road Reports
Tesla / Brent Byrd
Florida Theatre . Jacksonville, FL, USA
By: Eric Compton
Show Date: 2/9/2018
Published: 2/23/2018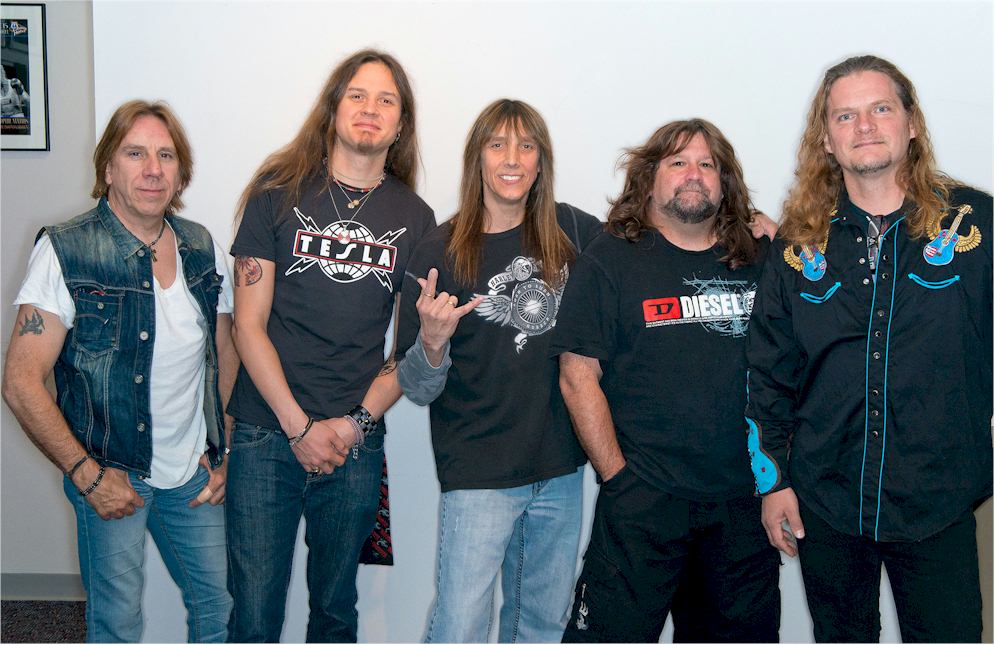 "The Florida Theatre was rowdy, lively and in-tune with Tesla's masterful performance"
Jacksonville, Florida has a long, rich history of musical culture. It is the birthplace of Southern Rock, cultivating and growing a thriving genre punctuated by it's homegrown sons and daughters--Lynyrd Skynyrd, The Allman Brothers Band, .38 Special and Molly Hatchet. The Florida Theatre embraces that culture, shining the limelight on the arts since it's conception in 1927. It's this bay-front styled culture, often referred to as "The Elbow", that sparks Jacksonville's night life, providing sound and stage for a number of headline acts including platinum selling artist Tesla.
The Sacramento hard rockers packed the Florida Theatre on Friday, February 9th, showcasing a solid set-list of hits and a back catalog of superb album cuts. Middle-aged fans arrived in droves, pronouncing their love for the band and singing along to the multitude of seasoned songs and spirits. It was a bit of nostalgia, fans reliving the proverbial glory days while still relaying to this ageless, energetic five-piece.
The opener was
Brent Byrd
, a Northeast Florida native that's toured and supported the likes of REO Speedwagon, Jimmie Vaughan and Donavon. Byrd, who often fronts a full band, needed only a guitar and a mic to captivate the audience. Embracing his love for Southern Rock, Americana and Blues, Byrd ran through a short solo set of powerful, original cuts, before closing with a song close to his heart--"Whipping Post" by The Allman Brothers Band. Vocally, Byrd's vocals and playing are reminiscent of troubadour talent Ryan Bingham (and fellow slide guitarist). In reality, the crowd probably would have watched an hour long set from Byrd and never left the seat. You can hear more of Byrd's music at www.brendbyrdmusic.com. Be sure to check out his full-length record, 'Evolution of the Free' as well.
Tesla
hit the stage with the title-track of their 2004 record, 'Into the Now'. Vocalist Jeff Keith, always the entertainment in his own right, was spot-on vocally. His spirited delivery and stage antics conveyed well to the audience--the Florida Theatre was rowdy, lively and in-tune with Tesla's masterful performance. Electric tracks like "The Way It Is", "Hang Tough" and "Heaven's Trail (No Way Out)" followed, representing the 1989 platinum album 'The Great Radio Controversy'. Keith's playful theatrics with lead-guitarist Frank Hannon and rhythm-guitarist Dave Rude validated the band's lyrics - "ready to kick ass up on the stage".
The vibe of the group's influential 'Five Man Acoustical Jam', released in 1990, was effectively captured with a mid-set highlighted by hit single "Signs" (PhD cover). Tesla closed out the show with a scorching, heavy-handed run of "Edison's Medicine", "Love Song", "Little Suzi" and the intense "Modern Day Cowboy", representing 1986's 'Mechanical Resonance' and 1991's 'Psychotic Supper'. During the performance, Frank Hannon and Dave Rude shared the front spotlight, fret-burning through soaring solos and leads with the occasional shoulder rub of bassist Brian Wheat. Hannon even took an opportunity to utilize his theremin for "Edison's Medicine".
Tesla's rousing night in Jacksonville was the precursor for the "Monsters of Rock Cruise", a six-day cruise of the Caribbean featuring Tesla, Queensryche, Thunder, L.A. Guns, Lynch Mob, Lita Ford and more. You can learn about the cruise at http://monstersofrockcruise.com
LINKS
Tesla Official Site
Tesla Facebook
[Other Maximum Metal Columns]
<< back >>