Road Reports
Scorpions
Return to Forever Tour
Various Venues .
By: Joanne Laroche
Show Date:
Published: 10/21/2015
The plan was set; I would attend 10 of the 16 concerts that the Scorpions would play here in North America. Surely, I must have been crazy to even attempt such a thing or maybe just dedicated. The Scorpions have been touring to support their new album, "Return to Forever" as well as their 50th Anniversary. Well, I figured if they could still be touring after 50 years, then I would make an effort to go to as many shows as possible. If anything, the Scorpions are a live band and still know how to get the crowds on their feet.

Their North American tour began in Boston on September, 10th 2015 and ended in Seattle on October 9th, 2015. With a good number of sold out venues, if you listen very closely you can still feel the earth resonate with their rock and roll energy. With Queensryche as their supporting group, this was a tag team to please the mainstream rockers and more progressive types as well.

The Scorpions set list (which remained the same throughout the Canada/USA dates) was a mixture of new songs, a 70s medley as well as their most popular songs.

Boston, MA – September 10th, 2015
The much anticipated first concert date was set in the very picturesque outdoor venue called the Blue Hills Bank Pavilion. The water of the Boston main channel sloshed lazily and provided a cool breeze. There was a slight bit of rain, providing even more backdrop to the rock and roll storm I would soon experience.

I was lucky enough to be in the front row – stage left. The place seemed small, but once it filled up, it suddenly seemed larger and I was amazed seeing so many Scorpions fans seem to find a place to sit. The curtain with the giant crown of the Scorpions new album "Return to Forever" made it more of a mystery. What was lurking behind that curtain?

Well, it turns out that curtain could have been a safety issue. When it was released, it took about 20 or more personnel to catch it as the show began. Also, there was a white line just before the railing/barrier that we were not allowed to cross. It felt a bit strange but once the show began, we all slowly crept up as close as we could without being sternly told to move back.

The concert started a bit rough, if a bit out of sync but after a few songs they were in the swing of things, rocking to their set list in true Scorpions form. The band seemed a bit tired though, which I believed to be jet lag. True to their skill, they got through it and by the time they played their "70s Medley" they were hitting every chord with expertise.

What a wonderful way to start the North American tour.

Guilford, NH – September 13th, 2015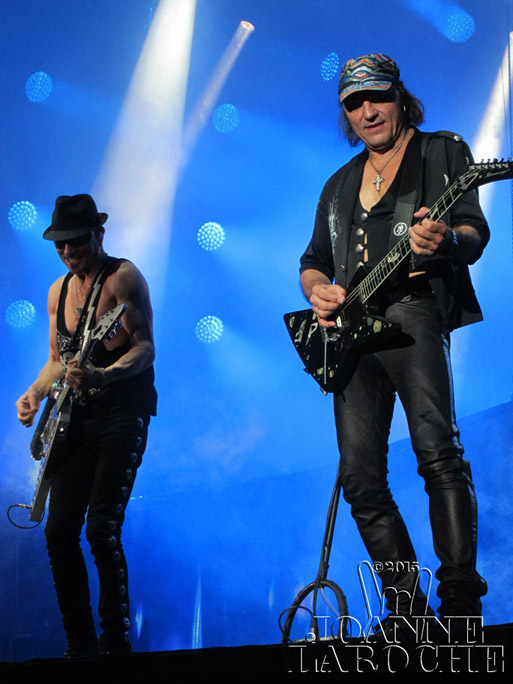 Getting to the Bank of New Hampshire Pavilion was quite the journey. It was fantastically out of the way – so much so that it could have been the scene in a horror movie. The parking was crazy expensive, the mosquitos were biting and the party had begun. This outdoor venue felt tiny, but well arranged. I do not believe any spot was obstructed from the view of the stage no matter how near or far.

Second row, stage left was where I was. This was definitely a party concert, the smell of wine and beer permeated the air. The weather stayed within a drizzle of raining until the last note was played and then the downpour began. The sound was fantastic. The vibrations from the drums and bass guitar were enough to feel the magic.

This time the curtain came down and the band really started off with a bang. With their lead singer Klaus Meine leading the charge, they powered through songs new and old. They played around with the audience – teasing them by getting their instruments where fans could almost touch them and then pulling away at the last moment. Seeing Rudolf Schenker (guitarist and founding member) up on stage whizzing around just like he did during the 1983 US Festival was quite amazing at his young age of 67 years old.

If anything the Scorpions are creatures of habit – they do not divert from their set list and it remained the same throughout the tour. However, what must be said is that their stage show is tremendous and deviating from the set list could be problematic and unsafe. It would have been nice to see a least one song change, but with killer songs such as, "Dynamite" and "No One Like You" it was hard to complain.

Next up was my homeland of Canada and I couldn't wait!

Moncton, NB (Canada) – September 16th, 2015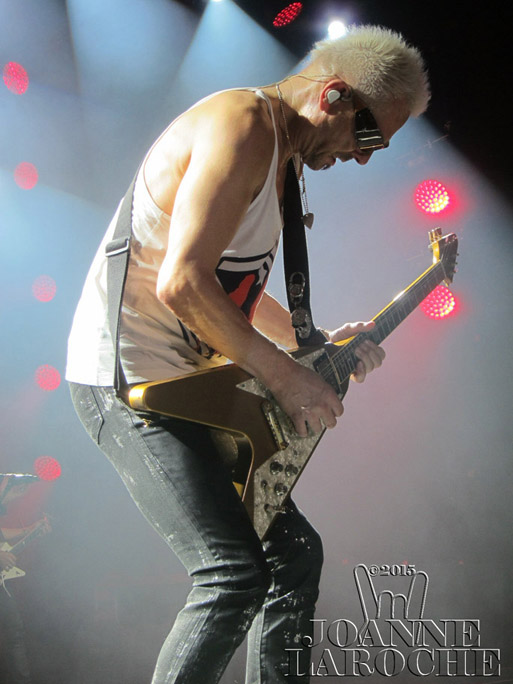 With a quick flight over to Moncton, New Brunswick I arrived ready to rock. My ticket was stage right all the way at the end in the front row. The Moncton Coliseum was hopping and jamming to all of the opening songs. They took special pride in hearing some Bryan Adams. I was with my local friend who had never seen the Scorpions play live. She knew who they were and liked some of their songs but she had no idea she would leave wanting more.

Lucky for us we managed to maneuver to a better spot near the "catwalk" that the band uses for their huge stage production. The sound was a bit off that night; it seemed the mix was not what it needed to be. After a few songs, it was better, but still not up to par. The band was really quite electric; they were ready to leave their mark on Moncton.

The fans did seem to take a little while to warm up – they fell silent during the new songs but became alive once again during the kick ass drum solo and when the known hits were played. Once the crowd warmed up – the switch was on and they just kept on wanting more and more!

One of my best memories from this concert was when lead singer Klaus Meine spent time making a connection with a fan in the front row who was in a wheel chair. He would extend his arm so that she could bang on his tambourine and at least once gently through her several drumsticks at once. The heart and soul of the band can be seen with these kind of actions, music and huge smiles.

Toronto, ON (Canada) – September 18th, 2015
I was really excited for the Toronto show at the Molson Amphitheatre, it was "General Admission" type of seating (at least on the floor) but I also was going to have the opportunity to meet the band which was a great honor for me.

Backstage seemed business as usual – catering, the Screwpions (Road Crew) running around everywhere and the occasional band member appearing momentarily. I was able to sit in for the VIP Meet & Greet they had set up and it was pretty sweet. It was on a boat! Of course these kinds of meet ups are always rushed along but I think with the location, the VIP folks were pretty happy. I couldn't stay long – with the General Admission seating that meant having some friends save me a spot up front. This time I had my choice of stage left once again or midway on the catwalk on stage right. Due to the height of the stage, I chose the former.

This show was loud! Friends of mine who usually refuse to wear ear plugs (no matter how much I insist) were asking for them by the second song. There was a comradery between the band members and if you paid attention you could see all the smiles they shared with each other and their audience. Some of their songs seemed a bit faster tempo than usual, so maybe it was a secret challenge and they had a great amount of fun with it.

At this point – it could have been because it was in Canada or the fact that the band just gets better after a few shows, but I could really feel some great energy. This band is a must to see live, they give it all they can at each and every show. The night was warm for September and the band seemed a little tired and travel worn but the energy is contagious and before we knew it the energy transfer was complete and the place was really rockin'.

Montreal, QC – September 19th, 2015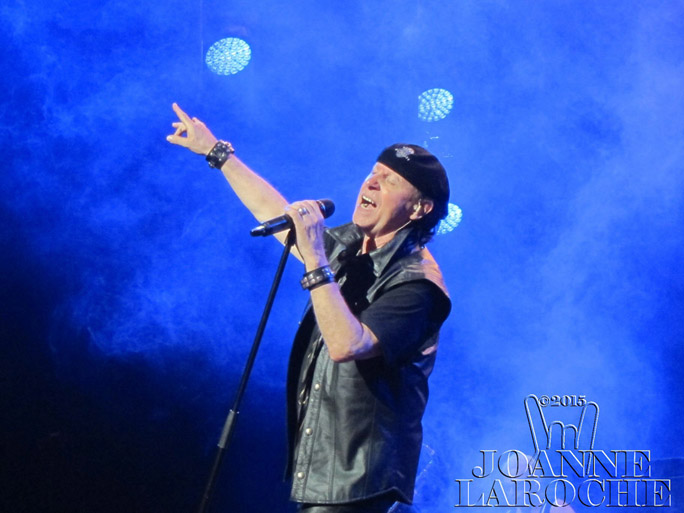 My "hometown" show awaited me. There is an excitement in each and every fan as you know you are about to see one of your favorite groups perform in a place nearest to where you live. This was a phenomenon I was happy to partake in. The Montreal Bell Centre was absolutely sold out to some very eager fans from the province of Quebec and beyond.

I took my place on stage left about 10 rows from the front of the stage which meant only a few rows from the head of the catwalk area. To my dismay, security stopped fans from approaching the sides of the catwalk almost until the very end. During the Scorpions set, Parker Lundgren (guitarist) from Queensryche came out to join in the awesome atmosphere. It was great seeing the supporting band come out and cheer for the headliner. Even they didn't want to miss this show.

The concert seemed to end in a blink of an eye. Where did it all go? One moment I was cheering on a friend who gave a phenomenal gold plated Flying V guitar to founder Rudolf Schenker as we watched in awe as he played it during, "We Built This House" and the next the lights came on and we were left wanting more and more.

This was the largest show that I went to up to this point and when the lead singer Klaus Meine needed to pause on stage in awe as we are all singing at the top of our lungs – you know it had to be awesome. The energy was incredible, we gave back as much as they gave us and it was magical.

Then again, it was a hometown show – I might be a wee bit biased.

San Jose, CA – October 1st, 2015
After what seemed like an extremely short break without concerts, I was on a flight to Northern California ready for some more rock and roll. I knew California would have some insane shows and they did not disappoint. There must be something in the California air!

At the San Jose SAP Center, my seat was just in front of the catwalk on stage right. Usually this is one of the best places for a height-challenged fan like me but because of how large this show was, it felt like I was missing some of it. The band wasn't blazing that night, but they definitely brought the crowd to its feet during such killer songs like, "No One Like You" and "Rock You Like a Hurricane."

The Scorpions love to throw gifts to their fans via guitar picks, drumsticks and if you are lucky a kiss or a heart made with their own hands. They were very generous at this show, with the amount of crowd members waving around a drumstick during the show. It was wonderful to see so many smiling faces.

The audience in San Jose was very animated. Besides vocalizing the songs in a screaming frenzy, their arms (and possible legs and other body parts) didn't stop moving to the sounds of the Scorpions.

Los Angeles, CA – October 3rd, 2015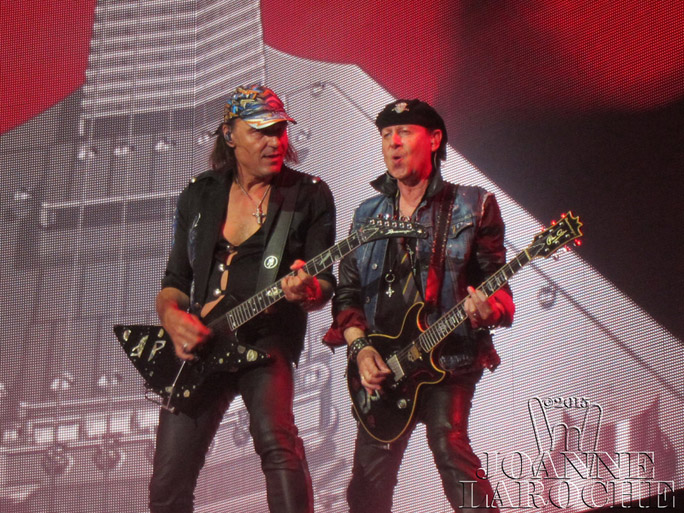 It was time for some "Big City Nights" at The Forum in Los Angeles. The place was sold-out and packed to the rafters by fans and stars alike. No one wanted to miss out on this Scorpions show. The fans showed up in true fashion – from the 80s to the present and anything (and everything in between). My seat was in the front row on stage left. Due to all of the special guests, they ended up having to do some creative seat re-arranging so they pushed the seats over a bit to make some room for everyone.

The place was absolutely chaotic. Security was tight. Once again, there was a line on the floor that we were not allowed to cross to go to the barrier. "Unfair!" I thought to myself, until the Fire Marshalls came out to make sure we were abiding by those anti-flame laws. Okay, safety – I'm all for that usually. The stage setup was immense. The jumbo screens on either side of the stage allowed us to see every detail that we weren't even looking for.

You could feel and see the lights burning through the curtain before it dropped. The audience screamed and they didn't seem to stop throughout the show. Having seen the show a few times at this point, I could feel the pressure the band was under to perform to this huge Southern California crowd. The video screens were immense and the sound was one of the loudest so far on the tour.

Matthias Jabs (along with other band members and his guitar technician Ingo Powitzer) played the instrumental piece, "Delicate Dance" extremely well. While it is a somewhat new song that was introduced in Greece in 2013, the audience inhaled every last note under the violet streams of light.

The crowd went absolutely nuts each and every time lead singer Klaus Meine said, "Califooorrrnniiiaaa!" Just like a time warp, we were magically teleported to the live recording called, "World Wide Live" and all was right in the Scorpions world.

Santa Barbara, CA – October 6th, 2015
A live event nestled in the mountains that required a bus shuttle was just what I needed. The Santa Barbara Bowl is an amazing venue and for those willing to dare the stairs to the top, you can see the ocean – worthy of a trip at least once! It was my first time seeing a show here, but you wouldn't need to twist my arm to return. There is a strict 10:00pm curfew…so plan your partying accordingly.

This show was much more laid back than Los Angeles, a smaller venue of maybe 4,000 or so and the stage show did not have room for their catwalk. The Scorpions did not disappoint. They played as much as they could in the time they had and I'm sure it could be heard all the way to the coastline. It did feel a bit rushed – as if the songs were just a bit higher in tempo to be just a bit faster.

In these smaller concerts there seems to be more of a connection between the band and the audience. Perhaps, it isn't as loud or maybe the lights aren't as bright. Speaking of which – during the song, "Blackout" when Rudolf Schenker returned to the stage with his smoking guitar; he was not wearing sunglasses for a short time. I believe this to be the only time I have seen him onstage without shades in many years. It was a special moment for those who noticed.

It seemed that the show was over just as fast as it began. It was very well organized and the security seemed to be the friendliest and informed that I had seen thus far. While I have called security "the great equalizer" throughout this journey – in Santa Barbara they gave me a glimpse of what well informed security can do.

Las Vegas, NV – October 7th, 2015
I had never been to the Hard Rock venue called "The Joint" before. I remember when I bought my ticket that it looked small even on virtual paper. It isn't very big, but it's cozy and very relaxed. My ticket was second row – stage left but in the end there was no line drawn on the floor and we could go to the stage – which was pretty high. There was no catwalk but all the lights were pretty blinding from my perspective.

Speaking of perspective – the goal for any height challenged concert goer is to always get as close to the stage as possible. In this case, I was so close it bordered uncomfortable. When you feel the need to take a step back for fear of getting your head smacked by a boot or when you look up and you are close enough to see the nostril hairs of Matthias Jabs – those are the signs you might be too close.

The audience was eclectic and electric. All songs were sung with drunken abandonment – it seemed that each note was savored with a glitter only Las Vegas could handle. It was a bit of a rocky start for vocalist Klaus Meine but once his voice warmed up he sang the tunes we all love and expected to hear. It was quick but by no means a gentle attack on our senses. You would not think this band was celebrating their 50th anniversary with this amount of raw energy.

Seattle, WA – October 9th, 2015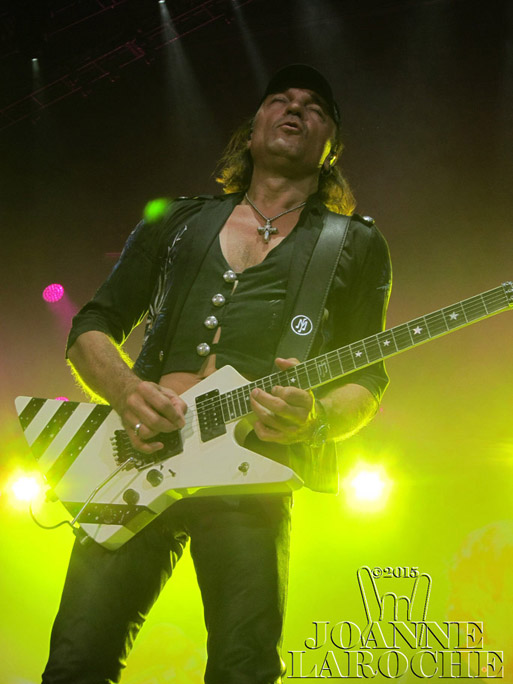 The tour would end here in Seattle at the ShoWare Center. How could this tour that felt so long but so short at the same time come to an end? It felt like yesterday I was at their first concert of the North American tour and now it ends. The SAP Center was fully packed – I'm not sure that they could fit more fans in there if they tried. This, combined with the drinking, the 420 friendly venue and for some reason many men deciding to take their shirts off…I declare this show to be the one that provided the most horrendous concert funk imaginable that took 3 or 4 showers to fully get out of my hair. No one said rock and roll had to be pretty or smell good, right?

It was a full auditorium quite reminiscent of my hometown show in Montreal. A huge floor area and stadium style seating. It was complete chaos. No one really seemed to know what they were doing or going – but somehow we all seemed to get there. When I purchased my ticket, I should have been on stage left up close to the catwalk but then when I found my seat it turned out to be second row in front of the catwalk. Not a bad place, unless the guys in the front row are trying to try-out for a professional basketball team – which they were. So with a bit of seat jumping (and bruises acquired) and praying no one would say, "Excuse me, where is your seat?" I found myself in the front row. Now that's the way to end the tour.

This would be Queensryche's homecoming so to speak and it showed. The audience appreciated every last perfectly-pitched song and note. However, the energy in the air, said "Scorpions, Scorpions, Scorpions" and everyone was ready and waiting for the headlining group to appear.

Their set list remained the same throughout the tour, but each time the that curtain would drop, I would think to myself that it didn't matter the song played, that sheer force of the Scorpions' sting was good enough for me. I knew that this was all coming to an end, so I savored – nay, I devoured each and every song, smile and note. The band was relaxed and having as much fun as the crowd.

The realization that it was truly ending was when the lead singer, took a few moments to thank their awesome crew and America for rocking with them. This band is sincere about their music, their fans and their live performance.
Scorpions are a band that must be seen live. You will feel the energy, taste the intensity of their songs and absorb the passion of what a real live rock and roll band is all about.


Warning: Attending Scorpions concerts can make you want to see them over and over again.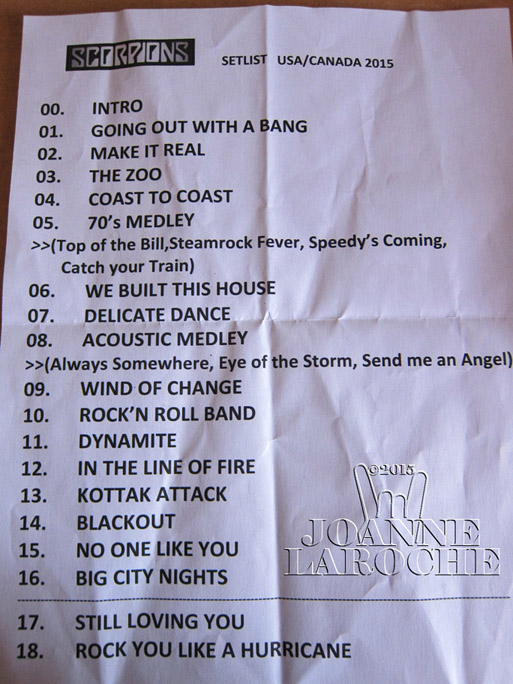 Members:
Rudolf Schenker
Klaus Meine
Matthias Jabs
James Kottak
Pawel Maciwoda
[Other Maximum Metal Columns]
<< back >>