Road Reports
Eviscera / Unleash the Archers / Azathoth
Golden Pony . Harrisonburg, VA, USA
By: Frank Hill
Show Date: 9/19/2015
Published: 10/2/2015
On occasion, I'll consider my own preference of metal show venues. I've been in everything from theaters to basements to big stadiums. The Golden Pony is a decent-sized club in Harrisonburg, VA, with two full bars and a professional sound stage with original music shows. Tonight was three metal acts and two and a half hours of headbanging heaviness. The original lineup was supposed to be a power metal double punch of Hibria with Unleash the Archers opening, but sometimes Fortune is a tricky god that takes from us with one hand and gives with the other. Due to circumstances with Hibria staying in the U.S., they had to back out and the show became Unleash the Archers with Virginia bands Eviscera and Azathoth.

Named after the god of chaos from the works of H.P. Lovecraft, Azathoth led off the show. Opening acts are hit and miss with me, but their death/thrash sound and musicianship was much better than expected. These guys were dressed like they rolled right out of bed in jeans and classic metal shirts. A big guy with vocals that could rust a steel beam at a hundred paces, lead singer Dustin Lloyd wore a Skeletonwitch shirt with the wholesome saying, "EAT SOME F*CKING P*SSY". I'd like to buy a vowel for $300, Mr. Sajak. Death growling isn't my regular preference, but the guitar work of the band, even minus a bassist, was fairly technical with some slick leads and solid drumming.

Band:
Dustin Lloyd - Vocals
Curtis Wright - Lead/Rhythm Guitar
Mason Dove - Lead/Rhythm Guitar
Jared Zimmerman - Drums

Set List:
Ex Oblivione, Spineless, Futility of Life, Premeditation

Links:
https://www.facebook.com/AzathothMetal/
https://www.reverbnation.com/Azathoth9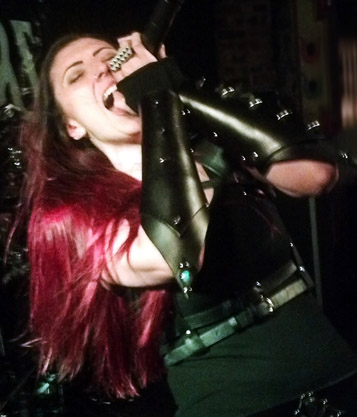 Second slot on the show was filled by the group I had originally drove out to see--
Unleash the Archers
. They play a stout combo of traditional and power metal mixed with some melodic death vocalizing, and just released one of my top albums for 2015--"Time Stands Still". I was more than eager for some self-inflicted neck soreness! When asked why UtA were playing in the middle of the show when an ad had them headlining, lead vocalist Brittney Slayes explained that Eviscera has a strong local following, so everyone felt they should have the top billing. Nice respect there. To my benefit, it meant that UtA would play for an hour instead of the half hour under Hibria.
Dressing the part in all black with sections of custom leather armor (to protect her forearms and shoulders from us, the crazed metal horde), Brittney commanded the center of the stage with excitable charisma. Aside from a few water breaks during slower passages, she was always in motion and in our faces or leaning way back to accentuate her jaw-dropping vocal wails. With foot on monitor, a lone wind machine kept her black 'n red/purple hair in continuous billowing mode when she wasn't whipping it about. She led the charge and we all fell in line as her iron army with fists and metal horns in the air. When the vein popped out on her forehead, shit was serious.
To answer some various social media comments questioning whether Brittney can hit the same notes live that she sings on record--she absolutely can! Check out the brief, arm-length away show clips below for a taste of her note holding and vocal vibrato. Or open another browser tab and do a search for UTA live on YouTube. She is a phenomenal, utterly stunning singer. With three guitars behind her at top volume, she needs to be. I was truly only able to process her skills by later viewing the short video clips I shot with my camera and I'm kicking myself for not having more.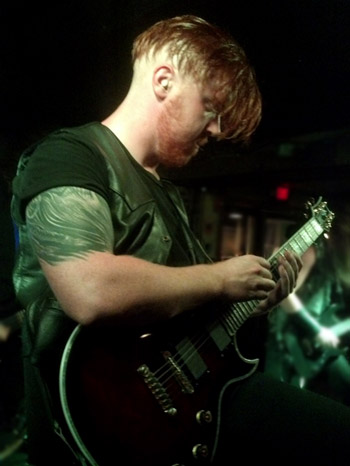 "If you don't know the words, there's a lot of whoa-oa-oas in this song for you to sing," she called out to bring us into the metallic fray. We tested our metal and tried to keep up. Bass player Kyle Sheppard and guitarist Andrew Kingsley covered stage right leaving Grant Truesdell on the left to do guitar and combos of growl and rasp vocals. Though a couple players have only been in the band a short while, they were all polished and tight on the rapid fire run of songs. This is Traditional Metal 101 with mixed vocal bonus points for extra credit. Their ten-song set was heavily focused on new material and only slowed down for a hello and some respectful thanks to the club and other bands. Grant, who tended to be the most animated, took the time to do an occasional jig and some synchronized kicks with Brittney. At a venue where they could have slacked off and high-tailed it back on the road to the next stop, everyone in the band gave 110% for the evening.
An oft-overlooked member of any band is the drummer and Scott Buchanan deserves a lot of credit for his precision drum work. "I don't really try to play power metal-style drums", said the founding member whose playing was surprisingly closer to an extreme drummer with plenty of timing and rhythm changes that elevated the music past the simpler Euro-power metal out there. His illegible band logo shirt may have been a giveaway to what he does listen to and I believe a drum head was busted during a latter song.
Partway through the set, the crowd caught on to the music and every rivithead in the club came over to witness some epic battle metal from the far Western end of Canada. Seeing UtA live exceeded my expectations and if I sound very high on the group, it's because I am. This is a superb hybrid metal band with tons of potential. At times, it felt like I could've been standing there seeing '86 Helloween or '94 Blind Guardian; a band on the cusp of a much larger potential. Let's hope that a UTA live album or dvd is a consideration for the future...maybe a virtual reality concert...j/k, for now. Get on it, Scotty B! Look for UtA on tour now with fellow Canadian band, Crimson Shadows.
Band:
Brittney Slayes - Vocals
Scott Buchanan - Drums
Grant Truesdell - Guitar, Scream vocals
Andrew Kingsley - Guitar, Growling vocals
Kyle Sheppard - Bass
Setlist:
Frozen Steel, Hail Of The Tide, Test Your Metal, Tonight We Ride, Daughters Of Winterstone, Realm Of Tomorrow, Dreamcrusher, Time Stands Still, General Of The Dark Army
Links:
https://www.facebook.com/UnleashTheArchers
https://www.reverbnation.com/unleashthearchers
Headlining act and local legends,
Eviscera
, are a young band who formed in 2010 in Harrisonburg, Virgina. In August of 2011, they released their first full length album "Blood of the Ancients". Members of Eviscera have shared the stage with The Faceless, Veil of Maya, This Time its war, Neuraxis, Abigail Williams, Decrepit Birth, Fuck the Facts, Zoroaster, and more. They are only a three-piece, but they made quite a lot of noise reminicent of early In Flames or At The Gates...harsh music with a touch of progressiveness. Lead singer and guitarist Patrick Weatherholtz looked a bit like a young Phil Anselmo and the crowd often broke out into chants of Eviscera! Eviscera! Eviscera! I'd like to say more, but I was getting into a heated discussion with a couple glasses of liquid liver failure by then.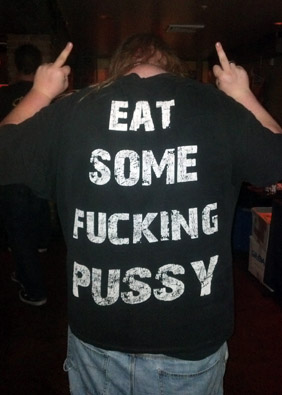 Band:
Patrick Weatherholtz - Vocals/Guitar
Eric Bange - Vocals/Bass
Jr Roberts - Drums
Andrew Albertson - Guitar
Setlist:
Unstable Affliction, Tomb of Rebirth, Cold Mountain Pt. 1, Harvester, Apolyon, The Beheading.
Links:
http://www.reverbnation.com/eviscera
https://www.facebook.com/eviscerametal
Eviscera, UtA, and Azathoth were one of those shows where everyone seemed to be having a great time and after each set the bands were willing to mingle about, take pics with fans, share drinks, and personalize all the merch sold. It was a dedicated crowd with the same interest--handbanging and having a blast.
To answer the question of what kind of show I prefer--I like aspects of all of them. But whether there is 6, 60, 666, 6,000 or 60,000 in the audience, I would trade all the flash pots and explosions in the world just to shake the hand of someone whose music had even a minor affect on my life.
Somewhere in a town near you, there are stars in the making that you can help raise up into the pinacle of the sky. Early Iron Maiden, early Iced Earth, early Pantera--they are all out there right now playing smaller venues. For less than the price of an album download today you might see one of tomorrow's superstars or at the least, a band that could become a legend in your own collection.
SUPPORT UNDERGROUND METAL!
[Other Maximum Metal Columns]
<< back >>