Road Reports
Michael Schenker's Temple of Rock
Vamp'd . Las Vegas, Nevada, USA
By: T. Ray Verteramo
Show Date: 4/7/2015
Published: 4/11/2015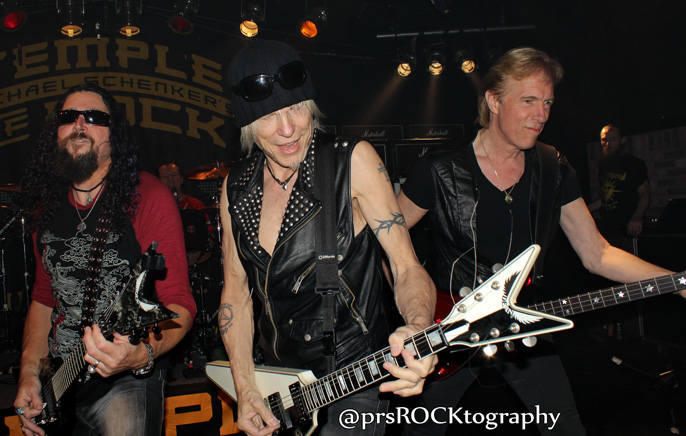 There is a sense of privilege watching a master at his craft.

We all know Michael Schenker. We all know where he's been, what he's done, and what he's doing because generations of rock, blues, metal, and prog artists have been influenced over and over by the legacy of where he's been and what he's done. But, it's quite a different experience listening to the product of the genius and watching the genius at work. He, along with Doogie White, Francis Bucholz, Herman Rarebell, and Wayne Findlay, are a band of masters who, strangely enough, sacrificed some of their own Rock from their Temple tonight in favor of shrines for The Scorpions and UFO.

Doors opened at 8:30 at the beloved goth and rock house on Sahara, Vamp'd, but the venue filled most of its capacity shortly after 9ish. The well-skilled, but ill-led opener, Gundriver, lukewarmed the crowd with lots of energy, tons of enthusiasm, and a whole lot of messy vocals and cues from the "Pauly Shore gone hardcore" frontman. Insta-poop-n-lyrics like, "Ooh girl, you're so fine / Yeah little girl gonna make you mine," may be (are) cringe-worthy, but made for easy crowd-pleasing for those who weren't paying attention. However, in all fairness, the rhythm section was impressive enough, with a young, strong drummer laying a solid foundation and the splashy, flashy bass talents of Rev Jones, who, himself, played with the headliner in MSG from 2000 – '06 and then again from '09 - 2012.
About 10:33, the house fills to capacity. Hot breath on everyone's neck, sardine packed, elbows to asses, squeezed up against the black box stage, intensified with the opening chords of UFO's staple classic, "Doctor Doctor." In such an intimate setting, the band's smiles and good spirits were instantly infectious, as if to say, "Thanks for inviting us to the party! Since we're here, may as well…" They were all in great shape, full of life, and seemed genuinely glad to be there, which anyone has to admit, makes all the difference in the world. Doogie lost the Buddha in his belly and Michael gained the Buddha in his soul. Francis held his ground in stance and sound, while Wayne's 7-string wizardry tied the entire outfit together with triple-duties of keyboards, rhythm guitar, and back-up vocals with a few leads of his own at the end. Herman, the big 2-year old banging on the pots and pans in the back, was having a particularly good time, charming everyone in his line of sight; singing along, making faces, and just banging the shit out of that kit. It was wondrous.


This line-up is the best fit Schenker has yet found, with the songs and show to prove it.

It was unfortunate that the vocal sound mix was distorted, dislocated, and inconsistent throughout the night. Though the drums and bass were set to literally shake the breastplate off your ribcage, it was heartbreaking to hear White's beautiful pipes crudely filtered through a roll of paper towel that just got out of the dryer. His mic even gave out at one point, to which a few expert whacks, a twist, and a pop fixed that right up. But, yet, it still seemed he was straining to be heard. Even then, he worked the stage, the sound challenges, and the audience like a boss -- and he let you know it, too. While Michael enjoyed flirting, posing for the cameras, and embracing the audience full-body, heart, and Flying V, Doogie set his boundaries, wagging "no no" fingers and raising "daddy warning," eyebrows, which may be why it took him a bit to get the call-and-responses he was looking for. However, in the end, Vegas is Vegas, love is love, great rock is great rock, and as the night progressed, so did the evening in every way, even in performances. Energizer bunny's got nothing on these guys.

And nothing could have prepared the house for a real, jaw-dropping, surprise treat of Robin McAuley of the McAuley-Schenker Group taking the stage for a "Natural Thing!" If it wasn't for that scratchy, sunken sound system, his singing would've raised the roof. Again, a pro shows his prowess over the speakers and helmed the ship as if no time had been lost, and a good time was had by all. Positive vibes all 'round where there had already been in abundance.


"The Temple of Rock has the potential to stand very tall. And though it is built upon the illustrious stones of foundations past, it also deserves to have its own design and structure established from its own material."
Temple of Rock
has just released their (technically) sophomore project; second with this line-up, third under the TOR banner, in the States on March 24. "Spirit on a Mission" contains a very strong library of songs that rivals its predecessor, "Bridge the Gap." Though "Where the Wild Winds Blow," "Live and Let Live," "Lord of the Lost and Lonely," -- which sounded vicious with the tempo boost! -- and "Vigilante Man," were lovingly performed, the remainder of the set list was reserved for the classics. "Lights Out, "Lovedrive," "Too Hot to Handle," , "Piece of Meat," "Rock You Like a Hurricane," (where Herman takes a break to take the mic for a few choruses), and "Holiday," to name a few. Though the revisit and revival of the band majority's history, as "We have three Scorpions up here!" Doogie warned, was tons of fun, it undermined the Temple's own pieces that would have interpreted extremely well onstage. "Gap's" "Dance for the Piper," "Rock-n-Roll Symphony," and "Horizons" -- the latter which they played to an enthusiastic crowd last year at LVSC -- and "Spirit's" "All Our Yesterdays," "Bulletproof," and "She's Got Something of the Night," would have undoubtedly blown the scalps off the audience if given the chance!
Being that Schenker has expressed interest for Temple to develop into its own entity, without the support of his moniker, it was not disappointing, but surprising that they didn't choose to promote their own compositions.
However, to be fair, the set list is like a buffet: no matter what you put out, it's not going to please everyone.
Then, of course, the highlight of the evening, the Axeman, himself. Schenker is one of the very few artists that can genuinely steal the breath away from his fans. Every note of every solo was received with fixation and awe. When the instrument becomes the voice and an extension of the player, the witness becomes part of the process. Schenker is an animator of sound. And when he took the last few precious minutes of the show for his grand finale, like fireworks, he pulled all the stops; manipulating every string, every peg, every muscle, every which, and every way through his signature, unorthodox techniques, and the thrill was beyond words. Throughout the entire night, he emanated divine light and competence. But, when all that power absorbed was finally expended and returned, he reminded everyone who he is.
There is still a ton of life left in him yet, but in that moment, that was where entertainment became privilege. It was humbling and magnificent to watch.
The
Temple of Rock
has the potential to stand very tall. And though it is built upon the illustrious stones of foundations past, it also deserves to have its own design and structure established from its own material. These are the guys who can do it and anybody would be crazy to miss this. Don't.
[Other Maximum Metal Columns]
<< back >>