Made in Sweden
The Demos Vol. 1 (Helotry/Ligament/Obscurity)

By: Eric Compton
Published: Friday, December 13, 2019
Our "Made in Sweden" column is still developing with new ideas and approaches. So far, we've concentrated on bands that had multiple releases, some with studio full-length records and others with multiple demos and tapes. You're probably wondering when we'll hit some of the bigger bands like Nihilist, Grave, Unleashed, Therion, Tiamat and the mighty Entombed. Remember, this is only issue eight and we have a ton of ground to cover. For now, we thought it would be more beneficial to offer discussion and insight on a few bands that you may not have heard. Prior issues have covered Nirvana 2002, Sorcery, Merciless and God Macabre with a few bigger acts like Carnage and Dismember. All of these acts have multiple demos or studio albums.
But what about the countless bands that only released demos and disappeared forever?
Instead of devoting entire issues to a band that has one recording (and honestly not much to discuss), we thought it fitting to do a series within a series. Every so often you will see an issue like this one, probably prefaced with this introduction. It's a look at a handful of demos (2 to 3) from bands that contributed to the scene in a small way. Their recording career essentially amounted to one demo before disbanding. It was a small step, but remember those band members read fanzines, traded tapes, attended shows and were fans before they were musicians. It's fitting that we show them some love and talk about the demos they created.
Thus, The Demos Vol. 1 is here...
HELOTRY - 'Demo 1993'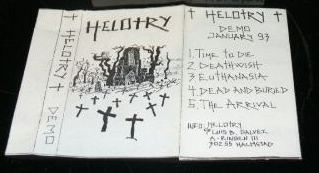 There isn't a whole lot written or recorded by Helotry. The band is from the port town of Halmstad on Sweden's west coast. According to Metal-Archives the band was at least in some type of incarnation as early as 1988. A rumored 'They Always Come in the Night' demo was released at this time. The only demo that's available anywhere to my knowledge is simply the untitled one that came out in 1993. At one the time the vocalist was Thomas Karlsson (credited as Unholy Pope), who would later front bands like Ajatus, Pagan Rites, Devil Lee Rot, Tristitia and Autopsy Torment. Luis Galvez played guitars and bass, notable for his contributions to Darkstone, Pagan Rites and Tristitia. Someone simply listed as Alesis played drums. The lineup for the demo featured Galvez but the other two members are too hard to read.
The demo opens with "Time to Die" and its grim battle drums coming from the distance. At 0:25 chainsaw riffs hit with up-front bass and nearly non-existent drums. Slower thrash riffing begins at the 1:00 mark with blackened screams that worships early Bathory. I'd call this track the black metal variety, evident with some spoken chanting at 2:27. "Death Wish" follows with an aural assault of quick hands and riffs. The song slows to a crawl at 0:25 with some really eerie spoken words that are probably Satanic in nature (just a guess based on the black metal vibe). A central, funeral riff continues throughout with more spoken words before spontaneously breaking into faster rhythm parts. The third track is "Euthanasia" and the band is really relying on the battle drums that are far back in the crude mixing. 1:20 the vocals kick in with a slower-paced thrash riff. It's evil, raspy and blackened. For the most part the song remains the same pace but speeds up a bit towards the end. This is dark stuff. The faster paced "Dead and Buried finishes my version of the demo although one additional song is on the original version - "The Arrival".
Aside from just this one recording, nothing else remains. Daniel Ekeroth even questions whether the band existed in his guide "Swedish Death Metal". But it does and it's a good piece of history that showed 1993 was really the turning point of when death was being eroded by the oncoming storm of black metal.
LIGAMENT - 'Demo-92'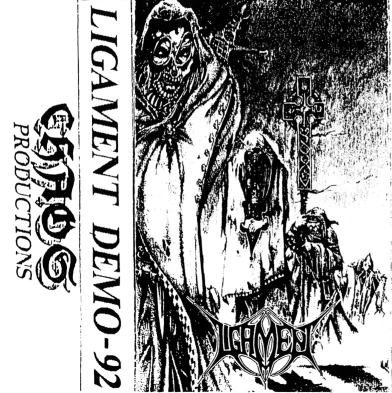 This band hails from the northeast of Sweden in a large town called Umea. The name is Norse for "roaring". It's fitting then that Ligament is from Umea considering their loud and aggressive style of play. The band formed at some point prior to 1992, possibly by singer Mats Bjorklund (Ancient), guitarist Fredrik Mannberg (Guillotine, Nocturnal Rites) and drummer Tommy Eriksson (Therion, Nocturnal Rites). Bassist? No clue. The band was signed to a short-lived label called Chaos Productions (Runemagick, Breed) out of their hometown. The band's first and only demo I've heard is 'Demo-92'. It was released in 1992 by Chaos Productions and featured three songs of solid Swedish Death metal.
"Saviour of Sickness" kicks it off, and like most bands of the time, has an ominous beginning that wouldn't be a far cry from a horror movie. Keyboards and some sound effects bleed into the first "Boss Pedal" riffs at 1:18. It's thick as molasses, heavily distorted and rages with a wicked mid-paced groove. Eriksson stays in the pocket and allows the riffs to firmly encase the sound. Bjorklund is a deep growler and he uses a voice box in parts to sound ultra-deep and monster-like. Some solos over double-bass penetration sews up the cut. "I Am the Fire" follows with two-beat drums, the deep vocals and that thick guitar sound. 0:46 hammers it out with some consistent cymbal use over the double-bass. It's a mid-tempo crunch that erupts into a nuance of Pantera "southern" groove at 1:30. This is fantastic. "Dead by Dusk" is the demo's curtain jerker, another double-bass driven track that is mid-tempo and does some slower one-beat hits before a deeply down tuned groove hits at 1:00. A really abstract solo lands before the song hits its rhythm. The demo closes the way it started with the keyboard sounds and what appears to be some backwards sampling.
Unfortunately, nothing else exists for Ligament. Word spread that another demo was recorded in 1993 but I can't find anything on it. I'm assuming the band fragmented in 1993 with its members joining other acts at the time. If you have any information send it on.
OBSCURITY - 'Wrapped in Plastic'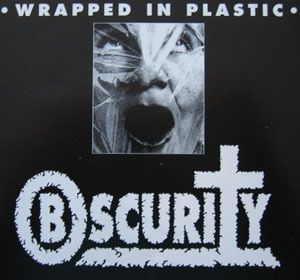 This Obscurity act isn't to be confused with the early Swedish extreme act from Malmo. Instead this particular Obscurity is from the town of Jarfalla and formed in 1989. The band featured singer and guitarist Robert Arvidsson (ex-Vicious Art, ex-A Canorous Quintet), drummer Robert Lundin (ex-Dark Funeral), guitarist Matti Makela (ex-Dark Funeral, ex-Vicious Art) and bassist Jorgen Karlsson. Later, Martin Modig replaced Karlsson and much later Masse Broberg (ex-Hypocrisy, Dark Funeral) would fill in as vocalist. The group was active from 1989-1995 before disbanding. I would imagine the band members had so many other projects going that Obscurity had been moved to the back-burner. Regardless, the group independently released one really cool EP called 'Wrapped in Plastic' in 1992.
The record opens with "Roses with Thorns", a fast-burning affair of chainsaw riffs, two-beat battery and deep growls and screams. I can hear influences from Morbid Angel on some of the beefy parts. The double-bass is nearly non-stop. At 1:44 this is absolutely shredding with romping thrash riffs and some slow but steady cymbals. A really strange solo is in the mix to close out the final minute. It's fitting with such a macabre and downright evil sound. Second cut, "Existence from Behind", follows with a slower Slayer-like guitar intro before crunching mid-tempo riffs. Surprising, female vocals are included at the 0:40 mark. 3:20 almost sounds like 'Black Album' Metallica with the enlarged riff. Arvidsson reminds us this isn't thrash with his ungodly vocals. Again, abstract and spacey solos hit for the closing minute. "The Third" is a shorter, fast paced death splash and is fairly average. The female vocals near the end add some atmosphere. "Middle-Section is a little instrumental piece at 17 seconds in length. Skip. "Emotions of the Past" is second to last and clocks in at less than three-minutes. The two-beat system is a little hollow but the faster riffs offset it. Blast beats, double-bass and chainsaw riffage is what you get. The title track closes it out. It starts with a few slower notes on guitar. At 0:33 some well-timed drums kick in but it's super slow and commercial (!). At 1:00 this doesn't even sound like the same band. Loverboy, Bonfire and other AOR styled acts instantly come to mind with the melodic injection and solos. Female chanting is included but man, what a weird instrumental to close things out. I'm not sure if I love or hate the way it ends.
As if awaiting a sequel to explain the film's ending...the movie never happens. Unfortunately, this is the only thing recorded by Obscurity. The band apparently continued until 1995 but nothing was recorded. 'Wrapped in Plastic' would never see a follow-up. It's a shame because the sole EP was really innovative and unique in what was a crowded scene after 1991.
[Other Maximum Metal Columns]
<< back >>