Made in Sweden
God Macabre - The Winterlong…
A band that was on the cusp of joining the "big boys" was Macabre End, or what would eventually become God Macabre.
By: Eric Compton
Published: Friday, November 17, 2017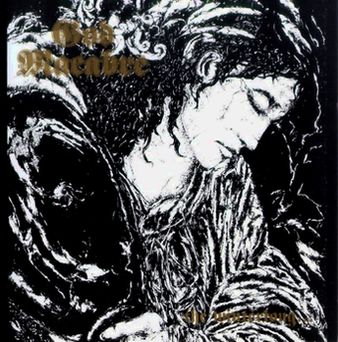 As we have outlined over the course of the first four issues, Sweden's death and extreme scene was loosely forming between 1987-1989. Kids, influenced by their domestic extremities like Bathory, Mefisto and doomsters Candlemass, had started shaping the scene with various demos. Few had actual bands and even fewer were organized enough to perform live. Historically, we as industry and fans alike tend to cite the big boys--Nihilist, Entombed, Unleashed, Grave, Tiamat, Dismember, Carnage--as the biggest contributors to the scene. They were the purveyors and it showed then through the early label rosters and full-length debuts that came to fruition in 1990 and 1991.
A band that was on the cusp of joining the "big boys" was Macabre End, or what would eventually become God Macabre. The Valberg band's early formation was in 1988 as Botten Pa Burken. At the time the group were a four-piece and were brewing a concoction of grindcore. In 1989, the group moved to standard death metal, perhaps influenced by the American style, and changed their moniker to Macabre End. At this time, the band featured drummer Niklas Nilsson, Ola Sjoberg on rhythm, lead guitarist Jonas Stalhammar, Thomas Johansson on bass and Per Boder as the cookie-monster vocalist. The group recorded a three-song demo, 'Consumed by Darkness', and released it to 100 copies on September 29th, 1990. That demo was recorded at Studio Sunlight by producer Tomas Skogsberg, the home and father to the definitive Swedish Death sound.
Unlike early acts such as Morbid, Merciless, Bathory and Treblinka (later the famed Tiamat), there is absolutely no mistaking the death metal heart of Macabre End. The demo opens with "Consumed by Darkness", a slow grinding machine, encompassing doom, choral backgrounds and drumming that went beyond the typical two-beat system. Along with atmospheric touches like wind and bells, the "brutal" aspect of the band is the deep growling vocals of singer Per Boder. I can't help but think that Macabre End and its later God Macabre incarnation motivated the doomy death acts of My Dying Bride and Morgion that would appear years later. The demo's second cut, "Ceased to Be", is the most defining of the trio, a mid-tempo death punch with some thrash riffs, start and stop rhythm, deep rumbling vocals and an influence from American acts like Death. "Spawn of Flesh" follows in much the same footsteps with a solid death metal engine that's fully stroked and pumping with energy and brutality. The demo was later released on 7" by Corpsegrinder Records in 1991.
According to the notes on metal-archives.com, the band was supposed to record an EP called "Nothing Remains Forever" for newer label Relapse Records around 1990. Rather than simply tell Thomas Johansson that he had been replaced in the band, the members decided to disband and form a new act called God Macabre without telling Johansson. Stalhammar, who had played lead on the Macabre End demo, took on the additional bass duties. This new line-up recorded a song for the 'Pantalgia' compilation, "Ashes of Morning Life", before entering Sunlight Studio once again in December of 1991. The band's drummer, Niklas Nilsson, informed the group he was leaving, but agreed to do the recording. The end result was the band's debut album 'The Winterlong...'. They signed to German label M.B.R. Records (Crematory, Grave, Insanity) for the release.
"Into Nowhere" kicks off the album with some deep vocal rumblings among Skogsberg's down-tuned unmistakable production standards. At the 1:05 mark the album hits into a faster tempo with some thrash riffing. There's some two-beat drumming through most of the song but overall this is more dynamic than say Merciless or Morbid. In a lot of ways this is sort of a prototype of what Hypocrisy was planning for their 1991-1993 era. Just traditional death metal that was slightly Americanized and executed perfectly. "Lost" follows and dips into the anti-Christian themes that a lot of death metal acts became enamored with at the time (and now). The four-minute track stays in the pocket and maintains some thrash riffage. At the 2:02 mark the track capitalizes on a solid solo and slows down with a sweeping doomy passage that is an atmospheric enhancement. That doom feel encompasses the whole second half of the song and is punctuated with a rigid, isolated bass line in the mix at 3:33. Really cool. The instrumental track "Teardrops" clocks in at 2:25 in length. "Ashes of Mourning Life" is another faster track with double-bass, the familiar deep vocals and some soaring solos towards the end.
The second-half of the record begins with "Spawn of Flesh", a really interesting cut that preaches against animal violence and eating meat--"Defenseless animals living their life, never to see the sun, and you are the responsible one, for each day consuming meat". The mid-pace really picks up at the two-minute mark with a grinding riff before slowing down to a doomy vibe over the double-bass and slow cymbal use. It's atmospheric, moody and then really blisters when it increases in speed at the end. "Lamentation" is another textured instrumental that feeds into the album's last song, "In Grief". The closing track reminds me of Candlemass with a wicked doomy passage made ultra-evil with the down-tuned sound. At the three-minute mark the song is extremely melodic with a slower back beat and calculated solos that build into a crescendo. It is expertly crafted and showcases a really mature approach to writing and arrangements. I love it.
1991 was a defining year for Swedish death metal with debuts from the likes of Dismember, Unleashed, Grave and Therion. God Macabre should have been caught up in that movement with their debut album release in early 1992. The record was created in December of 1991 and easily could have rode the momentum of the scene. However, due to bad luck, the band's record label didn't release the album properly. Believe it or not, God Macabre's debut album wasn't even released until two years after its recording--December 13, 1993. By this time, the most creative and important moments in Swedish Death metal had already been eclipsed by the oncoming storm that was black metal. And the fate of God Macabre? They had already disbanded by this point. What a complete failure on the part of the label and a missed opportunity for such a talented and promising band.
In 2002 Relapse Records remastered, remixed and re-released the record due to its cult following and tremendous praise from the industry. Die-hard fans have gotten their hands on a limited-edition live album called 'Eve of Souls Forsaken' that was recorded in Forshaga Sweden in September of 1991. It's a vinyl only pressing that saw 179 copies printed. It came in a box wrapped in bandages with a bloody front logo. A fitting release for such a wounded band.
Successful Dutch extremists God Dethroned covered 'Consumed in Darkness' on their 2001 album 'Ravenous' (Metal Blade Records).
In 2013, the band re-formed and as of earlier this year were still playing select live shows.
God Macabre Bandcamp
[Other Maximum Metal Columns]
<< back >>