Made in Sweden
Carnage - Dark Recollections
Like other bands at the time, Carnage was forged in the same fire.
By: Eric Compton
Published: Friday, August 25, 2017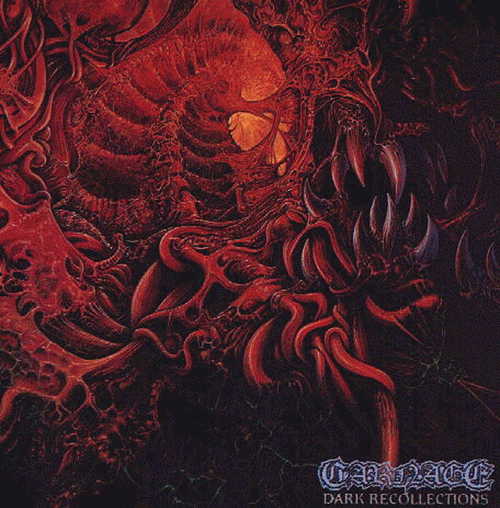 We've spent a great deal of time talking about the late 80s and early 90s Swedish Death scene and the artists and albums that helped form it. We touched on the first Dismember demos and their pivotal 1991 debut 'Like an Everflowing Stream' in issue two. It's only fitting that we analyze a band that had very close ties with Dismember, so much that they shared ideas, songs and band members.
Carnage.
The band formed in 1988 as Global Carange in the town of Vaxjo. The city was charted in 1342 and sits nearly in the center of Sweden. This geographical location is key--it's nearly 5 hours from Stockholm, the home of Swedish Death metal, but also less than 3 hours from Gothenburg, the city that would eventually create a scene more fitting for post-Carnage. But for now, in 1988, Global Carnage was formed by guitarist Michael Amott and his friend Johan Liiva. Originally Amott was playing in a punk band called Disaccord but had really been inspired by Carcass on his frequent trips to the UK with his father. According to the book "Swedish Death Metal" by Daniel Ekeroth, Amott gives credit to Carcass guitarist Bill Steer and his early downtuning to low-B. This would eventually be the standard for Swedish extreme music and heavily influence Amott's playing style.
At some point the duo dropped "Global" from their name and recorded a three-song demo called 'The Day Man Lost' in January of 1989. Liiva sang and played bass (although bass credit on the tape went to Johnny Dordevic), Amott played rhythm and lead and Jeppe Larson was behind the kit. Personally, it's hard to listen to the demo. It's sort of primitive grindcore but showed off Amott's early penchant for riffs. Liiva sounds unhuman and the production is abysmal. None of the songs eclipsed longer than two minutes.
After repeated offers from Carcass and Napalm Death for Amott to join them, the Swedish guitarist declined and continued his Carnage mission. In November of 1989, the band's second demo, 'Infestation of Evil', was recorded at Markstudio. This line-up featured Dismember founding member Fred Estby on drums. "Torn Apart" showed off more of what Swedish Death metal was becoming. It's mid-tempo, downtuned riffs and Liiva's improved death growls really show improvement. Estby's busy hands are a serious upgrade. "Infestation of Evil" was the only other song, an equally good number with the familiar two-beat drumming and thrash riffage. The demo cover was created by Carcass's Jeff Walker.
Fred Estby, David Blomqvist and Matti Karki were all involved in their own Dismember demos and album planning when they put the group on hiatus to concentrate fully on Carnage. Singer Karki was involved in several acts at the time (Carbonized, General Surgery, Therion) and was soon recruited to replace the departed Johan Liiva on vocals. It is this line-up (with Amott doing bass and guitars) that recorded the Carnage debut album 'Dark Recollections' in Sunlight Studio with producer Tomas Skogsberg. It was only the third album recorded at the famed home of Swedish Death metal (after Tiamat and Entombed).
The really interesting part of the album is that four of the songs were actually Dismember demos that were recorded in 1988-1989 ("Blasphemies of the Flesh", "Deranged from Blood", "Self Dissection", "Death Evocation"). These are essentially cover tunes of Dismember, respectively. The "Infestation of Evil" demo cuts appear here with the title track and "Torn Apart". The band also reworked the demo songs "Crimes Against Humanity" and "The Day Man Lost" into the new track "Gentle Exhuming". Like other bands at the time such as Grave, Unleashed, Dismember and Entombed, Carnage was forged in the same fire. It's mid-tempo to fast and has the two-beat pattern, down tuned guitars, deeper vocal growls and loads of sweeping grooves. The double-bass is sometimes isolated with Estby's fills and barrage of cymbal use (all trademarks of the time). You can hear Amott's melodic side, fueling the songs with groves of rhythm and fret work. The album highlight for me is bruiser "Malignant Epitaph" which best represents the "meat and potatoes" of the Carnage sound.
The record was released courtesy of Earache sub-label Necrosis. The original version is just the Carnage set but another version does exist that features a split with Cadaver's 'Hallucinating Anxiety' album. Some collectors have a valuable 7" vinyl (1000 copies existed) called 'Live Stockholm Sweden" on Distorted Harmony Records. It features four tracks and was released in 1991. Beyond that, nothing else exists for Carnage.
That's right. Nothing else.
It turns out that Michael Amott couldn't turn down the Carcass offers any longer. He loved Bill Steer's playing and liked the grinding death style of the UK act. Once Amott disbanded Carnage, Dismember reformed and prepared for the debut album release (again, see issue two). Amott played for three years with Carcass until 1993 (he rejoined them for 5 years in 2007). In 1994, he started the traditional metal band Spiritual Beggars that is still active today. Amott's claim to fame would circulate back to Swedish extreme metal though. In 1995, he formed Arch Enemy with his brother Christopher Amott and previous Carnage singer Johan Liiva. That band became one of Sweden's biggest acts and a cornerstone of the melodic death metal movement that originated in Gothenburg.
But that is a tale for another day.
[Other Maximum Metal Columns]
<< back >>