Made in Sweden
Dismember - Like an Everflowing Stream
"A legendary piece of not only Swedish death metal but extreme metal as a whole"
By: Eric Compton
Published: Saturday, May 13, 2017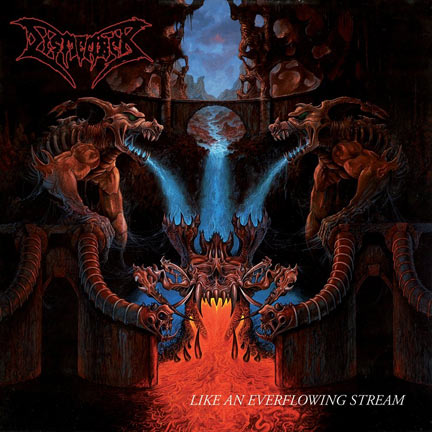 Dismember are one of the early pioneers of Swedish death metal. The band formed in Stockholm in 1988, probably influenced by the activities of fellow pioneers Treblinka (later Tiamat), Morbid, and Candlemass. At the time the country's extreme metal was such a small, close-knit community with band members typically just hanging out, drinking beer, and tape trading. So, it's no surprise to see Nicke Andersson of Nihilist/Entombed fame not only design the logo for Dismember but also to play guitar on seven of the ten cuts represented by the band's debut album. By trade he was a drummer at the time.
'Like an Everflowing Stream' was released in 1991 by then newcomer label Nuclear Blast. The album gained momentum from four prior demos that circulated between 1988-1990. Originally the band was to be called Dismemberized but Andersson ran out of room for the logo so it was shortened to Dismember. The debut album featured David Blomqvist on rhythm guitars (he played lead on "Override of the Overture"), Robert Senneback on rhythm guitar, Richard Cabeza on bass, Fred Estby on drums and Matti Karki singing (stretching the word singing). As mentioned previously, Nicke Andersson played lead on seven cuts. Dismember was essentially the brainchild of Fred Estby and he produced, mixed and arranged the album with Tomas Skogsberg (Afflicted, At the Gates) at the famed Sunlight Studios (the proverbial home of the scene).
Estby, Karki and Blomqvist were deeply mired in the Dismember sound in the late 80s but had taken a brief hiatus from the planning of the debut to assist fellow Swedish extraordinaire Michael Amott (Carcass, Arch Enemy) with his Carnage debut 'Dark Recollections'. Four of those album's tracks were actually covers of the Dismember songs that appeared on early Dismember demos ("Deranged from Blood", "Blasphemies of the Flesh", "Selfdissection" and "Death Evocation"). I think that little bit of exposure helped soften some of the Dismember sound on 'Like an Everflowing Stream' and eventually more of the later catalog. I can't help but think of Michael Amott's melodic nature, even as early as 1990, helped to create a little smoother and dynamic presentation. While the record is absolutely a break-neck display of riffage and aggression, it has some start and stop to the delivery and a lot of melodic solos that really make it a complex and stunning display of Swedish extremity.

In death I will sleep
Floating deep
From dying heaven
To living Hell

--In Death's Sleep
The album begins with an ominous thundering that isn't a far cry from something heard from Bathory. "Override of the Overture" kicks in at the 40 second mark with a fast two-beat and heavily down-tuned riffs. Karki is maniacal with his nearly spoken word delivery in the gravels. An injection of solos and melody hits at the 3:40 mark and isn't a far cry from NWOBHM tendencies. While the opener sits at 5:16 in length, the second track "Soon to be Dead" (also a promo video) is less than two-minutes. It's a furious death song with lyrics that questions Christ's emotions on the cross ("Consider me as another victim of their plans, but my choice is not your f##cking Jesus Christ"). "Bleed for Me" keeps up the charge but has a wallop of groove soaked with solos and melody. Lyrically it's as black as the ace of spades, possibly influenced by Slayer's serial-killer imagery (although the extreme Swedes typically denounced thrash). The washed out abstract solo closes out the last minute as Karki's wails "I love to hear you scream". "And So is Life" is just as barn-storming as the previous cuts but adds a bit of atmosphere with some choral vocals recessed into the mix. It adds a good piece of emotion and is something fellow countrymen Hypocrisy would use so well later on. At the 1:55 mark the track just explodes into a wall of groove with that menacing use of cymbals for effect. Just a killer cut. The mid-point "Dismembered" starts with a slower melody and a sporadic clanging of cymbal. The wails and screams of Karki are like a condemned man awaiting Hell. Solos are in abundance leading to the first actual lyrics at the 2:10 mark. It's atmospheric, emotional, and menacing as it breaks into a speed-fest for the remaining three-minutes.
"Skin Her Alive" kicks off the second half and is a track that got the band in a little legal hot water before successfully defending themselves. Needless to say, the lyrics echo the same imagery as "Bleed for Me". The two-beat battery and rampant riffs are just as deranged as the songwriting. It's a quick, merciless onslaught and a defining track for the Swedish death scene. "Sickening Art" is a little slower pace and reminds me groove-wise of the stuff Unleashed did on their own debut the same month and year of 'Like an Everflowing Stream'. I love the grinding riff at the 2:00 mark and Karki's weird vocal effect. "In Death's Sleep" has that same grinding riffage to open the track as Karki says "From dream to dream we have always been like an everflowing stream". That's cool as Hell combined with this choral vocal effect that mirrors what "And So is Life" did with it. The cymbals are really punchy here as the track builds in speed and climaxes at the 2:00 mark with some of Karki's deepest growls. It's probably one of the most aggressive songs of the early 90s. The last 40 seconds is chilling with an ominous solo, slower pace and the haunting words "In death I will sleep, floating deep from dying heaven to living Hell". Wild. The album's last songs, "Deathevocation" and "Defective Decay", are also the band's oldest, appearing on the 1988 demo tape 'Dismembered'. "Defective Decay" is a solid closer with some blast beats mixed into the aggressive formula.
'Like an Everflowing Stream' is 26 years old and remains a legendary piece of not only Swedish death metal but extreme metal as a whole. Aside from Entombed's 'Left Hand Path', it could be considered the father of the genre. The album was not only released by Nuclear Blast in 1991 but again in 1996 and 2005 by Regain Records. The record made it into Decibel Magazine's Hall of Fame in 2010. Dismember would go on to a storied career that lasted until 2011 and encompassed eight studio records and global touring that stretched from Asia to North America. Not too shabby for a bunch of Hell raising, beer drinking kids from Stockholm.
[Other Maximum Metal Columns]
<< back >>