Where Are You?
Ted Bullet
Vocals for Thunderhead
By: Eric Compton
Published: Friday, November 4, 2011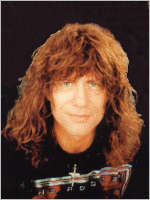 Who could forget Ted Bullet, the charismatic raspy voiced wailer that fronted Thunderhead? His vocal delivery proved to be a unique calling, blending his American voice to some of Germany's best laid hard rock. With his cocky edge and vocal range Bullet was a good mixture of Krokus' Marc Storace and David Lee Roth's arrogant flamboyance, combining a flair for the rough and tumble "mean streets" while still soaring with a vocal range that could please the 80s arena rock crowd.
Bullet (real name?) traveled to Germany to audition for the commercially acceptable Victory in the mid 80s. The German hard rockers had a vacancy due to the departure of Charlie Huhn (the job later went to Fernando Garcia). After apparently failing the audition he met up with guitarist Henny Wolter (Sinner, Primal Fear) in Hamburg and the two combined their talent to form the powerhouse Thunderhead.
The band's debut, "Behind The Eight Ball", was a scorching number of solid cuts that showed off some of the raw edge of Motorhead but still the groove intensity of Accept. Thunderhead went on to record six albums between '89 and '99 with the band seeing exposure worldwide (even domestically in the US). Bullet also fronted Son Of A Bitch, delivering one solid album in "Victim You" with Saxon alumni Pete Gill, Graham Oliver and Steve Dawson.
Generally Thunderhead received positive praise and to this day still draw great reviews and often comparisons to Scorpions, Accept, Victory and Sinner in the German "hall of fame". After "The Ugly Side" in 1999 the band minus Bullet backed the late David Wayne (ex-Metal Church) on his solo venture while Ted quietly disappeared into obscurity.
So where are you Ted Bullet? It has been almost 13 years since we've heard your voice. Sweden is exploding with hard rock. The Germans and Swiss crowds are on rock riot. Even the US is breaking the scene with up and coming glam rockers. What a great time for Bullet to return to rock glory! Bullet...bullet....BULLET!
Where Are You Ted Bullet?
If anyone has any information to the whereabouts of the above musician, please email us at
news@maximummetal.com
[Other Maximum Metal Columns]
<< back >>