Movie Review
Looking Back at the Metal Horror Film "Trick or Treat"
By: Frank Hill & Eric Compton
Published: 10/27/2017
In 1986, heavy metal was riding on one of its biggest commercial waves ever. You had rock bands like Bon Jovi, Motley Crue, Quiet Riot, Def Leppard, Ratt, Tesla, and Twisted Sister; speed metal from Yngwie, Helloween, and Grave Digger; power metal from Dio, Scorpions, and Iron Maiden; thrash metal from Metallica, Anthrax, Megadeth, and Slayer. Life was good being there live and in living color.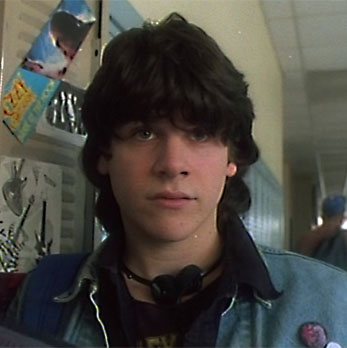 Marc Price, aka Skippy from the TV series "Family Ties", is the serious lead star, Eddie Weinbauer aka Rag Man. He's the metalhead social outcast of the school with his pseudo, messy mullet, black shirts, jean jacket, and leather bracelets--the real ones, not that cheap stuff sold at Claire's Boutique. All over his attic room is metal posters and magazine covers with Judas Priest and Anthrax when Scott Ian had hair. Right in the middle, hanging like Sebastian Bach's portrait of himself from Mtv Cribs, is a giant poster of his hero--Sammi Curr.
Now, I don't know why Eddie was the lone headbanger at school because I was in high school then and metal was hot and trendy at the time, but he only hung out with some other dork and always ends up on the bad side of the popular, gel-haired, prep-jocks who get the gorgeous girls and like to towel-snap guys in the ass. They make his life difficult with insults and pranks, but he doesn't pull himself up by his bootstraps and learn karate like Daniel LaRusso. There is, though, a cute girl who feels sorry for him.
Guy: "Get lost metalhead."
Girl: "Why can't you act normal?"
Eddie's world gets dark (more dark) when Sammi dies in a hotel fire at age 38...thirty-eight!? Unlike some of the kids who wanted to die after Cobain offed himself, Eddie carried on like a wayward son and went to see his DJ buddy "Nuke" played by Gene Simmons. Nuke feels his pain and gives Eddie the only studio master of Sammi's last record, "Songs in the Key of Death". It's supposed to be played at midnight on Halloween, but since it's vinyl, you can run it backwards. Back then, bands slipped little backwards messages in their music to screw with fans. Sammi hid messages too, but he didn't go on trial like Judas Priest. Sammi's last record tells Eddie how to get revenge; that he's gonna "nail them all."
Sammi: "No wimps. No false metal."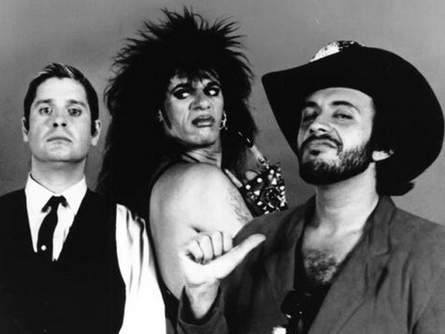 Ozzy shows up as a moral crusader on TV--ironically cool and certainly a play on the Parents Music Resource Center (PMRC) of 1985 which had the stated goal of increasing parental control over the access of children to music deemed to have violent, drug-related, or sexual themes via labeling albums with Parental Advisory stickers.
Eddie tries to destroy the records because he's really a decent headbanger like the rest of us, but the room shakes like a Quiet Riot video and out comes Sammi--Heavy Metal Murderer! He looks like a combonation of black metal meets hair metal meets Two-Face. It just happens to be time for the school Halloween dance, so Sammi who can move through electrical items, shows up at the school, takes the stage and wreaks havok, like that girl whose name rhymes with "hairy".
I don't wanna spoil the ending, but you know what happens when you copy and pirate music--somebody is gonna get it.
Overall
Look: low budget with crappy special effects
Flesh Factor: boobs, but less than a Steel Panther video
Violence: comic bookish with no blood
Scare Level: If the Exocist is a 10, this would be about a 3.
Lessons Learned
1. Don't fuck with evil.
2. Don't go to high school dances.
3. If you shake hands with Gene Simmons, check your fingers for your rings then check for your fingers.

Staff Opinions
Yeah, back then we were all excited that OUR heavy metal was finally being acknowledged from OUR fan point of view (Spinal Tap was the band's pov). I can remember going to the theater to see "Trick or Treat" thinking it was going to be real cool because the entire movie was based around metal, not just the soundtrack. Now, I hoped the movie would stay true to the 'old-school' roots of metal instead of pandering to the 'poseurs' (or posers) that were skipping through the genre. I wanted it to be so fucking killer!
I will acknowledge that an attempt was made to make a movie with metal touches (devil horns, underground albums, Ozzy and Gene, etc), But I didn't want see the typical bullied, loner metal kid and the typical revenge-fantasy horror plot. I wanted to see a real metal film written by insiders. "Trick or Treat" was more cheesy horror film than a metal film. And when Sammi started singing his scary quotient dropped fast. Instead of prancing about singing high-vocal Fastway songs, it would've been better if he sounded closer to Lemmy.
Of note and worth exploring socially to me is the Sammi line: "You should be loyal to your heroes. They can turn on you." We tend to think of fans turning on artists/bands, so his quote flips that power structure on its head.
My biased opinion: 2 1/2 devil horns out of 5 for it's metalness. Worth a watch but I don't have any retro fondness for it.
--Frank
I stumbled on "Trick or Treat" around 1990. It was a "big box" rental at my local video store (remember those?). My buddy and I were in our early metal exploration at the time, so the appearance of a glam-faced rocker amidst guitars and flames was absolutely an invitation to the dark side. I'll never forget the scene when Eddie's mom is sorting through his record collection. We had written down the albums and band names (the ones we could make out) and carried the list around for a couple of years. Hordes of yard sales, flea markets and used music stores never quite produced Impaler, Exciter or Rise of the Mutants at the time, but damn if it wasn't fun trying to reproduce Eddie's record collection.
For me, I'm a fan of 80s slasher films and I think this one still holds up with the best of them. It's more of the "Shocker" or "Nightmare on Elm Street" variety with the humor (unintentional?), but that's what is so entertaining about horror in the first place. It's a fantasy to escape the real-life horrors. The soundtrack by Fastway is generic but a mandatory inclusion in any metal fan's library. The film has similarities to 1974's "Phantom of the Paradise" (Brian DePalma) and has central themes associated with Germany's "Faust" folklore. Other metal minded horror movies of that era is "Hard Rock Zombies" (1985), "Blood Tracks" (1985), "Black Roses" (1988), "Rock 'n Roll Nightmare" (1987), "Rocktober Blood" (1984), "Shock 'em Dead" (1991) and "Monster Dog" (1984).
--Eric
I miss the cheesy horror movie flicks from the '80s. Trick or Treat ranks right up there with the best of them. I mean, combine Gene Simmons with playing records backwards to evoke an evil rock star spirit and add in Ozzy Osbourne playing a preacher. All of these things together equals a potential for an epic movie experience for any hard rocking, horror movie seeking fan.
Anytime I think about Trick or Treat, I will always and without fail, get the track, "After Midnight" playing in my head by the group Fastway. To say that song is catchy (and the video is kitchy) is absolutely an understatement. But it's got some decent guitar riffs and just the right amount of aggression for a mainstream Halloween film.
The movie itself had some great moments. Guest cameos aside, since this movie was released in 1986, they were right dab in the middle of all the hoopla about satanic messages being heard on albums if you played them backwards. So having a story about some dead rock star using that as a way to get back with the lead character (Eddie Weinbauer) who was being chastised in high school was pretty perfect timing. Of course, once the deadly rock star emerged (Sammi Curr) it was pretty difficult to stop the evil raunchy revenge mayhem that he could cause.
In hindsight this movie had all the elements to make it a classic. From the state of the art (IE: Horrible) special effects to the teenage outcast becoming the hero. It also shed huge light on bullying and what happens when someone is bullied too far and has help from a demon spirit. Having just re-watched it after all these years, it still seems more like a comedy than a horror flick--with a great soundtrack. Bonus is having Marc Price (You might remember him as Skippy from Family Ties) break out of his nerdy shell and use some cuss words. No not Skippy!
In my opinion this is classic that all hard rock fans should watch once. (Unless you think there are subliminal messages on it that will create some havoc.)
--Joanne
<< back >>