Staff Round Table: Buy, Borrow, Bust --Overkill, Halestorm, Saille and More!
4/28/2017 1:29:31 PM by Frank Hill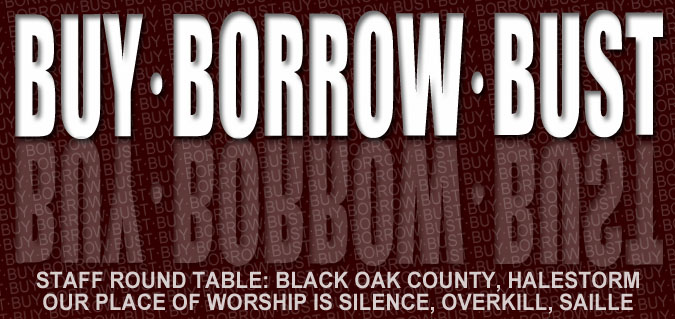 Tons of new releases have crossed our desk this year and in the spirit of a good ol' sit down, digital round table, we grabbed a handful of various albums from various styles and put in our opinion of each. Where we try to cull our biases out of regular reviews, in here personal feelings are apt to raise their gnarly heads. Instead of our normal scoring system, we simplified it down to the 3-choice options of: "Buy, Borrow, or Bust" --Buy: I'd put down some cash for it, Borrow: I'd stream it or snag a copy from a friend, Bust: I'd physically crush this into little pieces with a heavy vehicle.
In our DIY age with thousands of releases each year, getting noticed is half the battle. So, let's spin the wheel on Black Oak County, Halestorm, Overkill, Our Place of Worship is Silence, and Saille; and see where it lands...
Read our staff column here:
[Full Column Link]
<< back >>