Metal Styles Charted Against Listener Reaction!
7/17/2015 1:50:57 PM by Frank Hill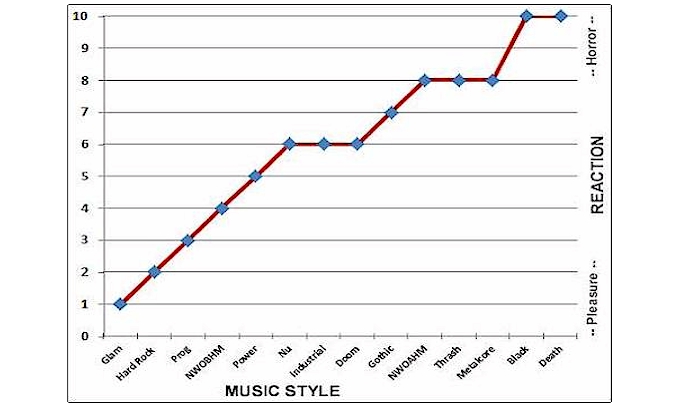 Every now and then, some of my non-metal friends ask me what I'm listening to. Here's an ascending chart of how the music style influenced the listeners' reactions. It's fairly predictable, but Glam wins out as the friendliest where Black and Death tie for the most horrific reactions of this non-scientific study of hard rock and metal styles plotted against listener reaction.

Typical Bands Played
· Glam - Poison
· Hard Rock - AC\DC
· Progressive - Rush
· NWOBHM - Iron Maiden
· Power - Helloween
· Nu - Korn
· Industrial - Ministry
· Doom - Black Sabbath
· Gothic - Therion
· NWOAHM - Killswitch Engage
· Thrash - Overkill
· Metalcore - Hatebreed
· Black - Emperor
· Death - Cannibal Corpse

Let it be your Maximum Metal guide to attracting your visitors or even for getting rid of a few!

<< back >>