Special Guest Column with Vocalist Brittney Slayes
A Look at Her Top 10 Sci-Fi and Fantasy Influences
4/3/2015 4:13:12 PM by Frank Hill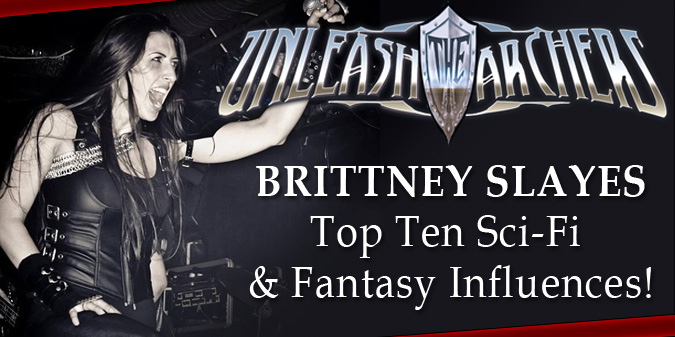 With a name that evokes medieval imagery and a sense of urgency, Unleash The Archers formed as a band in Victoria, Canada in 2007 and have subsequently been developing a fanbase with the release of three full-lengths and one EP and by playing shows throughout North America. The band created a campaign on IndieGoGo to help cover the costs of their pro-shot video for "General of the Dark Army" which is approaching a million views on YouTube. The band's combination of mythic subjects, melodic power metal guitars, Brittney Slayes' traditional lead vocals and harsh, male backing vocals are the staple of their genre-defying brand of music. With the success of their sophomore album, the band have been slowly infiltrating worldwide markets. Their increased global presence and talent led to the band signing with metal label Napalm Records this year.
Brittney has mentioned in interviews that she is heavy into sci-fi and fantasy and that they were an influence on her writings. We decided to explore that a little deeper and asked her to come up with 10 items within those genres and how they may have tied into the band's material.
Check out her
Top 10 Sci-Fi and Fantasy Influences
here:
[Full Column Link]
<< back >>