Unsun
Clinic For Dolls

Company: Mystic Productions c/o Armoury Records
Release: 2010
Genre: Gothic
Reviewer: ChaosLord
Can definitely hold their own with any of the female fronted acts

Unsun is a female fronted Polish band that is very similar to Lacuna Coil and Sirenia. Also the band features former Vader guitarist Mauser. I have to say that when I found that out I almost didn't believe that it was him remembering his fierceness from his Vader days. But he definitely brings solid guitar work to the album.
There is definitely a Gothic feel to the album at times and keyboards throughout to add an ethereal feel to some songs. Vocalist Aya serenades and belts her way through songs with flair ala Cristina Scabbia. The riffs are heavy enough to bob your head to and the songs are structured quite well, with a nice touch of heavy and industrial to keep things interesting. Production is quite crisp and keeps the album together nicely.
Unsun can definitely hold their own with any of the female fronted acts out there today. Pick this one up if you're looking for some decent listening material for a rainy day.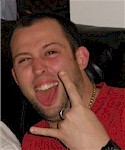 About this Writer:
Greg Watson
// Greg Watson has been hooked on the loud and heavy sounds since the summer of 1994 when he first heard the opening notes of "Operation: Mindcrime" by Queensryche. Since then his tastes have expanded and grown like the ever evolving heavy metal tree of genres. He has been an active member of Maximum Metal off and on for 10 years. In his spare time, Greg enjoys deciding the fate of his loyal subjects in the realm of Skyrim and secretly playing air keyboard to "Separate Ways" by Journey when no one is watching. He currently resides in Roanoke, VA with his wife and his metal wannabe beagle.
Maximum Metal Rating Legend - Click for Full Details
All reviews for this band:
---
Interviews found from this band:
| | | | |
| --- | --- | --- | --- |
| INTERVIEW | BAND | INTERVIEWER | DATE |
---
You may also like: