Thunderblast
Invaders From Another World

Company: Pure Steel
Release: 2011
Genre: Power
Reviewer: EC
A riff bonanza of high speed metal

Seven year lapse between the band's debut and this new one called "Invaders From Another World". The band obviously used some of that span to perfect this second effort--pure Columbian power thrash and what I consider the "Monster Energy Drink" of 2011. Phelipe and the boys are a riff bonanza of high speed metal, screaming while beating it senseless. Drums are the driving force with Neanderthal skins that remind me of Brent Smedley's performance on early Iced Earth. The whole record sounds like a cross of Iced Earth and Rage, speed and finesse playing the roles for Thunderblast. The writing is deep in science fiction and horror from zombie uprising to genetic experiments gone awry. A few sound effects are scattered around for an atmosphere that matches the "Left For Dead" style artwork.

Maximum Metal Rating Legend - Click for Full Details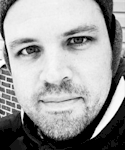 About this Writer:
Eric Compton
// Eric Compton lives in the most haunted city in the world, St. Augustine, Florida with his family and two yorkies. He has served as senior editor for MaximumMetal.com for nearly 10 years and is the author of the heavy metal book series--Denim & Letters. His reviews, interviews and social commentary has been featured on websites like Brave Words, Blabbermouth, Metal Temple, Metal Rules, Ultimate Metal, Metal Maniacs and Wikipedia.
All reviews for this band:
---
Interviews found from this band:
---
You may also like:
<< back >>