Seven Witches
Call Upon The Wicked

Company: Screaming Ferret
Release: 2011
Genre: Traditional
Reviewer: EC
A flat mess across the board

Vicious Rumors' "Razorback Killers" have already delivered the knockout this year in terms of red, white and blue metal bravado. Now Jersey's Seven Witches step up with veteran James Rivera (Helstar) back in the coven. Rivera joins for this 10th anniversary record; eight records in ten years and Rivera's third for the group. You would be hard pressed to find a better record than Rivera and Frost's collaboration on "Passage To The Other Side" (2003).
Can they conjure the force again?
Well...no.
This is just a flat mess across the board, hounded by muddy guitar and almost lifeless production from Joey Vera (Armored Saint). These songs just lack that extra momentum to make them memorable. This is a far different effort than the 00s work with Rivera at the helm.
You can look at tired efforts like opener "Fields Of Fire" or "Lilith" and find these songs carry no real sense of purpose or anything to marry the listener. In years past Frost has dominated with sheer fire intensity and a mad display of talent. Here the riffs are broken, bruised and...borrowed. I can't fathom the nine minutes of "End Of Days" and even good songs like "Ragnarok" suffer from lack of direction (the chorus is just awful). Only true highlight here is the Dio-styled title track (an ode possibly?).
The bonus songs are older material re-recorded but sound as if they are coming from a bathroom stall--live from club unknown.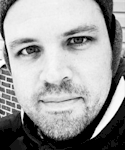 About this Writer:
Eric Compton
// Eric Compton lives in the most haunted city in the world, St. Augustine, Florida with his family and two yorkies. He has served as senior editor for MaximumMetal.com for nearly 10 years and is the author of the heavy metal book series--Denim & Letters. His reviews, interviews and social commentary has been featured on websites like Brave Words, Blabbermouth, Metal Temple, Metal Rules, Ultimate Metal, Metal Maniacs and Wikipedia.
Maximum Metal Rating Legend - Click for Full Details
All reviews for this band:
---
Interviews found from this band:
---
You may also like: