Poisonblack - Lust Stained Despair - 2006 - Century Media



Track Listing

1. Nothing Else Remains
2. Hollow Be My Name
3. The Darkest Lie
4. Rush
5. Nail
6. Raivotar
7. Soul In Flames
8. Pain Becomes Me
9. Never Enough
10. Love Controlled Despair
11. The Living Dead
Well I'll be damned if Century Media hasn't shown up sister label Nuclear Blast with an absolute astonishing candidate for album of the year, competing with the likes of new slabs from Edguy and Amorphis with a new gothic hard rocker. Shaking tombstones and coffins comes Poisonblack, the Finland based metal act that rejuvenated the gothic cause with 2003's debut "Escapexstacy". While that album was a fairly good representation of gothic metal moving beyond it's original burial plot, it offered nothing in the way of good quality hard rock licks that one could sink their teeth into, no pun intended. That was three years ago and since then the band has made quite a few changes. Charon vocalist Juha-Pekka Leppäluoto departs to make way for former Sentenced frontman Ville Laihiala, who simply played a guitarist role on the band's debut. Laihiala steps in as lead singer and guitarist, making this his main project after the retiring of popular Finnish goth-doomsters Sentenced. Also, this time around the band moves up the stage from a three-piece to a five-piece.
"Lust Stained Despair" is a huge improvement over the debut album. For this slab of granite, Laihiala's stellar voice fits tightly into the goth-hard rock groove set out by this superior second effort. In many ways this feels like a whole new band, making me simply wonder why Laihiala didn't just change band names to make a fresh new start. I guess if Jeff Waters changed names every time Annihilator played musical chairs he would be in the running for most bands in a career. This sophomore venture is solid from top to bottom, with strong, catchy hard rockers like "Nothing Else Remains" and "Rush" putting the guys on the same path as bands like Edguy and Crystal Ball. Those hard driving chorus parts and Laihiala's fantastic vocal performance won't leave your head for weeks. While those songs offer a hard rock intensity that we have never seen in Sentenced, other cuts are more moody. "The Darkest Lie" and "Nail" both bend and slide with a dark, poetic atmosphere that would resemble tracks from Sentenced albums like "Frozen" and "Crimson". Other songs are more Swedish based, with "Never Enough" on par with the modern achievements of In Flames. There is also a well placed piano passage here and there, really making this appealing to those mid-era Paradise Lost and Amorphis fans.
Bottom Line - Just when we finished up our funeral prayers for Sentenced, Laihiala and Poisonblack come roaring back with a solid album that really is a far better product than the last couple of Sentenced albums. A sure-fire candidate for album of the year in my opinion. Highly recommended!
--EC 8.16.06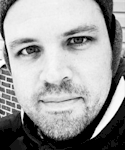 About this Writer:
Eric Compton
// Eric Compton lives in the most haunted city in the world, St. Augustine, Florida with his family and two yorkies. He has served as senior editor for MaximumMetal.com for nearly 10 years and is the author of the heavy metal book series--Denim & Letters. His reviews, interviews and social commentary has been featured on websites like Brave Words, Blabbermouth, Metal Temple, Metal Rules, Ultimate Metal, Metal Maniacs and Wikipedia.
Maximum Metal Rating Legend - Click for Full Details
All reviews for this band:
---
Interviews found from this band:
| | | | |
| --- | --- | --- | --- |
| INTERVIEW | BAND | INTERVIEWER | DATE |
---
You may also like: