Lonewolf
Army Of The Damned

Company: Napalm Records
Release: 2012
Genre: Power
Reviewer: EC
Well-crafted effort

My first run in with Lonewolf was their debut back in 2002 called "March Into The Arena". Since then the French Teutonic band have really worked hard both in the studio and abroad playing to the locals and supporting headliners. The band are often compared to Running Wild and even sound more like those German legends than Running Wild do now (something said about Primal Fear compared to Priest). Regardless the band keep pushing the power metal and once again create another well-crafted effort in "Army Of The Damned".
This marks the band's fifth album to date and sports what will eventually make a who's who of great album covers for 2012. The record was produced by Bart Gabriel (Burning Star, Crystal Viper), the same talent that produced the band's 2009 album "The Dark Crusade". "Army Of The Damned" is also the first album for Lonewolf's new label Napalm Records.
This sort of power metal/Teutonic flavoring is going to appeal to fans of Paragon, Iron Savior and Running Wild with vocals very reminiscent of Sabaton. The band understands their audience and provides plenty of punch on band monicker "Lonewolf" and "Cold", both playing Running Wild-styled power metal with tons of quick paced guitar and melody. The band's double bass attack runs rampant through charger "The Last Defender". Blaze Bayley (ex-Iron Maiden, Blaze) steps in for guest vocals on "The One You Never See". The album does slow down a bit, time changing for "Army Of The Damned" and "Celtic Heart".
Fans of huge gang chants and sing alongs will love the album from start to finish, which is really my pet peeve for the record. By song eight the album is draped in huge chorus sing alongs that really seem to be cut and paste numbers. Sure bands like Sabaton are red hot right now but Paragon, Iron Savior, Running Wild and Grave Digger have been doing this sort of thing for decades. Still with that being said there is something fairly pleasant about "Crawling To Hell" and the band in unison chanting "Hell Hell Hell"...I dunno, maybe those gang chants never grow old.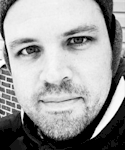 About this Writer:
Eric Compton
// Eric Compton lives in the most haunted city in the world, St. Augustine, Florida with his family and two yorkies. He has served as senior editor for MaximumMetal.com for nearly 10 years and is the author of the heavy metal book series--Denim & Letters. His reviews, interviews and social commentary has been featured on websites like Brave Words, Blabbermouth, Metal Temple, Metal Rules, Ultimate Metal, Metal Maniacs and Wikipedia.
Maximum Metal Rating Legend - Click for Full Details
All reviews for this band:
---
Interviews found from this band:
---
You may also like: