Love Forsaken - Sex, War, & Prayers - 2005 - Self Released



Track Listing

1. Diamonds Rain
2. Lightfull Experience
3. Words To The Wind
4. The Human Race
5. Forsaken Love
6. Beyond
7. Education
8. Ominus
9. Sex, War, & Prayers
Love Forsaken come to us from Italy, with "Sex, War, & Prayers" marking the band's first debut since it's formation in 1998. The group call themselves progressive death metal and I can't really argue with that. At times bands like Celestial Season and My Dying Bride come to mind but really, in all honesty this band is probably a bit more extreme and brutal when compared to those gothic inspired bands.
"Sex, War, & Prayers" is built on an up-tempo speed, really creating fast, orchestrated pieces that burn with intense riffs and well placed keys. Vocalist Danny is in the same sort of vein as Hypocrisy's Peter Tagtgren, with a death metal growl that adds in plenty of black metal screams with it. The band is made of Kaba on guitar, Stefan on bass, Abbott on keys, Pyt on drums, and Pronach on electronic drum pads. Overall the group display a dazzling ability to combine atomosphere with speedy rhythms, all housed in the most extreme outfit. While the guitars build to giant groove pieces, the band run through rapid, experimental visions. Fast paced riffs move much of this material, with keyboards dominating the background, almost coming across as neo-classical.
Bottom Line - This could be very pleasing to fans of Novembers Doom, Monolithe, and Opeth.
--EC 09.01.05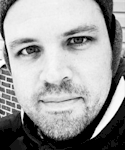 About this Writer:
Eric Compton
// Eric Compton lives in the most haunted city in the world, St. Augustine, Florida with his family and two yorkies. He has served as senior editor for MaximumMetal.com for nearly 10 years and is the author of the heavy metal book series--Denim & Letters. His reviews, interviews and social commentary has been featured on websites like Brave Words, Blabbermouth, Metal Temple, Metal Rules, Ultimate Metal, Metal Maniacs and Wikipedia.
Maximum Metal Rating Legend - Click for Full Details
All reviews for this band:
---
Interviews found from this band:
| | | | |
| --- | --- | --- | --- |
| INTERVIEW | BAND | INTERVIEWER | DATE |
---
You may also like: