Iced Earth - The Glorious Burden - 2003 - Reviewed by IcedMojo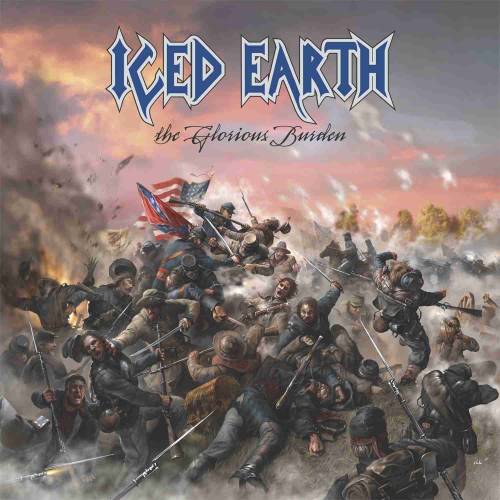 Track Listing

DISC 1:
1. Star Spangled Banner
2. Declaration Day
3. When The Eagle Cries
4. Reckoning (Don't Tread On Me), The
5. Greenface
6. Attila
7. Red Baron/Blue Max
8. Hollow Man
9. Valley Forge
10. Waterloo
11. When The Eagle Cries
DISC 2:
1. Gettysburg (1863)
2. Devil To Pay, The
3. Hold At All Costs
4. High Water Mark

The last full length CD of original IE stuff hit the streets June 25, 2001, and as we all know was "Horror Show." Since then, Iced Earth has made a major change. I am talking about Barlow leaving and Tim Owens (Formerly of Judas Priest) stepping up to lay down vocals for the album. But I am not gonna sit here and tell you what everyone should know. However, I will say that I cannot wait until this record makes itself known to the public (so I can be the first in line to buy it).
Honestly, I was a bit skeptical of this "new" sound, I mean hell, there is no denying Matt had a great voice, and with Jon along side of him, they were a force to be reckoned with. I do love "Demolition" (Judas Priest CD featuring Owens on vocals). Let's Face it, Iced Earth without Barlow, how good can it be anyway? GREAT! Agreed, Owens is not a Barlow, but the style he brings to Iced Earth is that of which I thought was only possible in places like Germany, not like most of the "Metal" (and I use that term loosely when referring to trendy mall metal) you find in the states.
Joining Schaffer and Owens on this historic journey (this entire release paints a detailed epic of the Civil War, a favorite subject of Schaffer's) are drummer Richard Christy (Formerly of Death), longtime bassist James MacDonough, guitarist Ralph Santolla.
From the classic epic Gettysburg (1863), to the true power of "Declaration Day," this is an instant classic. Even without Barlow, (Good luck, you will be missed.), Iced Earth delivered one hell of a kick ass classic. Just imagine the speed, riffs, and bass talents of, let's say, Slayer, the ungodly melodies of acts such as Sinergy or Hammerfall. Lyrically, think for a second, hmm, who has a raw in-your-face sound (beside the sound of the aforementioned Priest album)? Rage comes to mind. Throw in the hard hitting drumlines of old-school Metallica (And Justice For All and earlier, when they had talent). And for kicks, just a dash of a medieval sound (Jag Panzer-Thane To The Thrown), and then you will have The Glorious Burden.
Power/Thrash at it's finest. They did release an EP, that was, well, less than expected, at least by me. but it does the album no justice at all. Iced Earth has what every great band should or does have, a raw vocalist, talent, speed, wonderful harmonies and instrumentation, great riffs and solos, and an album that is sure not to disappoint.
Special thanks to Max Metal staffer EC who turned me on to Iced Earth (the greatest power metal band I have had the luxury of listening to) to begin with.
--IcedMojo 12.11.03
Maximum Metal Rating Legend - Click for Full Details
All reviews for this band:
---
Interviews found from this band:
---
You may also like: