Iced Earth
Festivals of the Wicked

Company: Century Media
Release: 2011
Genre: Power
Reviewer: ChaosLord
Solid package and a must have for any true IE fan

"Festivals of the Wicked" is a DVD/Cd combo from Iced Earth and was released to hold fans over until the release of "Dystopia" in October of this year. The review will be in two parts, covering the CD and DVD separately.
Let me preface this review by saying that IE is one of, if not my favorite, metal bands ever!! That said I was fairly let down when I picked this release up. The DVD promises a lot of greatness but falls short in a couple of ways. The DVD is two discs that feature 3 live shows and a 60 minute documentary about the festivals and the band itself. The shows were all festivals in Europe from 2007-2008. Two of the shows feature Matt Barlow shortly after rejoining IE after his brief hiatus and the other show has Tim Owens handling the vocals.
The show with Owens handling vocals is from the Wacken Open Air performance from 2007. Many staple Iced Earth tracks are missing from the set list and "Ripper" at times struggles to handle the more clean singing tracks. "Burning Times", "My Own Savior" and "The Coming Curse" don't have the feeling and passion that normally comes from these songs. And even tracks from "Glorious Burden" and "Framing Armageddon" are sung with less passion that what I would have expected. In addition, it just seems that Owens would rather be somewhere else when he's on stage. Looking very uncomfortable at times and thrashing around like an epileptic exposed to strobe lights, his stage presence is barely present at all.
The Barlow shows are from Rock Hard Festival 2008 and Metal Camp 2008. Barlow delivers on the vocals as many fans have come to expect. You can hear the passion in his voice as he belts out staples such as "Melancholy", "I Died For You" and "Question of Heaven". The venom and anger equally appear on "Violate", "Burning Times" and "Travel in Stygian". The set lists from these two shows are different in that the Rock Hard Festival does not have a performance of "I Died For You". Other than that, the track listing is identical. There are some gems hiding though, such as the first live recording of "Dracula" and a nasty, heavy version of "Violate".
The rest of the band performs admirably and you can really tell that IE puts in 100 percent effort and then some into every live show that they do. The most disappointing aspect that I experienced with the DVD were two things. First, the production is really whacked out on the concerts. There is lots of static and crackling, almost like some feedback from another device was interfering. I tried the DVD in different players and with different audio settings and every time that popping was still present. I was able to minimize it enough where I could listen to the shows without wanting to throw something through my TV because of the infernal popping. I need to research the audio issues further to find out if my copy was just royally screwed up or if it's a common thing occurring.
Secondly, the documentary featured on the DVD was a big letdown. The sticker on the cellophane said that it was the first documentary that interviewed the entire band. While this was true, the other band members didn't really talk a whole lot. The majority of the documentary was John Schaeffer talking about the band itself, the festivals, crazy happenings and other random things. Don't get me wrong, it was great to watch and get an inside perspective to Schaeffer, I had just hoped for a little more conversation with the other members than what was given. All that being said though, there is a group of about 6 videos that are bonus features as well and I was pretty stoked about that.
Now for the CD portion. The CD as well as the DVD is a bit of a bittersweet release for me. It marks the last time Matt Barlow will be appearing on an IE release, at least for the near future. For those of you that didn't know, Barlow elected to leave the band again on March 3rd of this year. While I wish him the best, it is sad to see him go again. Anyway, I'm rambling. The CD features 12 tracks pulled from the various performances. The live version of "Dracula" that I previously mentioned appears on here and it is worth picking up the CD alone just for that track.
It is the second live recording that IE has released and although it isn't as large as the first one (Alive in Athens) it does provide a good range for the band. They cover a lot of their albums in only 12 songs and you get to hear the difference between the way Barlow and Owens tackle the songs in the IE repertoire. Every album but "Stormrider" and "Burnt Offerings" is represented on the album and there are a few staples like "Iced Earth", "Burning Times" and "Vengeance is Mine" to name some.
As a package this set is a good deal. Without knowing if the issues on the DVD are universal or just unique to the one that I bought, it is a little difficult for me to be unbiased and the fact that I worship this band complicates matters further. That being said however, this is a solid package and a must have for any true IE fan or anyone looking to become more familiar with this great metal band. I am waiting with bated breath on the release of "Dystopia" on October 18th this year and looking forward to hearing the difference that Stu Block brings to the table as the new singer. Until then, I'll be rocking this out to sate my craving for new IE material and suggest you go and pick this up and join the legions of the Wicked!!!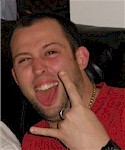 About this Writer:
Greg Watson
// Greg Watson has been hooked on the loud and heavy sounds since the summer of 1994 when he first heard the opening notes of "Operation: Mindcrime" by Queensryche. Since then his tastes have expanded and grown like the ever evolving heavy metal tree of genres. He has been an active member of Maximum Metal off and on for 10 years. In his spare time, Greg enjoys deciding the fate of his loyal subjects in the realm of Skyrim and secretly playing air keyboard to "Separate Ways" by Journey when no one is watching. He currently resides in Roanoke, VA with his wife and his metal wannabe beagle.
Maximum Metal Rating Legend - Click for Full Details
All reviews for this band:
---
Interviews found from this band:
---
You may also like: