Cradle Of Filth - Damnation And A Day reviewed by: Chaoslord



Track Listing

1. A Bruise Upon The Silent Moon
2. The Promise Of Fever
3. Hurt And Virtue
4. An Enemy Led The Tempest
5. Damned In Any Language ( A Plague On Words)
6. Better To Reign In Hell
7. Serpent Tongue
8. Carrion
9. The Mordant Liquor Of Tears
10. Presents From The Poison-Hearted
11. Doberman Pharaoh
12. Babalon A.D. (So Glad For The Madness)
13. A Scarlet Witch Lit The Season
14. Mannequin
15. Thank God For The Suffering
16. The Smoke Of Her Burning
17. End Of Daze

For those of you who feel that Cradle has sold out and will not make kick ass metal anymore, a big "Fuck You" to you guys.
I must admit that I too was skeptical about them being picked up by a major label and how that would affect their music, but they have proven all the skeptics wrong with this release. This is the best CD that these Evil Englishmen have put out since "Vempire" in my opinion. Not only is this CD incredibly heavy, but it is more guitar oriented like older Cradle of Filth.
With it being a concept album, based on the story of Satan, that is just another element that adds to the greatness of this CD. There are the creepy choral elements that have reared their little heads on the last few Cradle releases. The music on this album is just kick ass. The drumming is some of the best I've heard from Cradle since blast master Nick Barker was behind the kit. And Paul has come up with some kick ass guitar riffs, some of which remind me of old Maiden. Dani has those freakish howls down to a science and his growling is deeper than ever. Any fan of Cradle needs to go out and pick up this CD, for they will not be disappointed.
--Chaoslord 6.26.03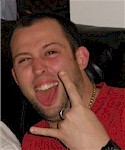 About this Writer:
Greg Watson
// Greg Watson has been hooked on the loud and heavy sounds since the summer of 1994 when he first heard the opening notes of "Operation: Mindcrime" by Queensryche. Since then his tastes have expanded and grown like the ever evolving heavy metal tree of genres. He has been an active member of Maximum Metal off and on for 10 years. In his spare time, Greg enjoys deciding the fate of his loyal subjects in the realm of Skyrim and secretly playing air keyboard to "Separate Ways" by Journey when no one is watching. He currently resides in Roanoke, VA with his wife and his metal wannabe beagle.
Maximum Metal Rating Legend - Click for Full Details
All reviews for this band:
---
Interviews found from this band:
| | | | |
| --- | --- | --- | --- |
| INTERVIEW | BAND | INTERVIEWER | DATE |
---
You may also like: