Amorphis - Eclipse - 2006 - Nuclear Blast



Track Listing

1. Two Moons
2. House Of Sleep
3. Leaves Scar
4. Born From Fire
5. Under A Soil And Black Stone
6. Perkele (The God Of Fire)
7. The Smoke
8. Same Flesh
9. Brother Moon
10. Empty Opening
It is a rare occasion that your favorite metal publicist can get so moved and touched by a simple recording of songs that he finds himself absolutely speechless, fearing that he may or may not be worthy enough to even offer comment on such a miraculous and triumphant event. It has been quite a year, this young 2006, with heavy metal and hard rock music hitting all-time highs and strides. As many of you have probably read, I was astounded and awed at how well Sweden's In Flames roared back this year with their new record "Come Clarity". For me, personally, the album will be in my top five forever and by early March, I really hadn't discovered one release by one band that really stirred me to listen to anything else. Really, in all honesty, my conversations with staff were on the subject of how do we continue to review releases and albums that are nowhere near as extraordinary as what In Flames created with their newest record. Then came a blackout with Amorphis' "Eclipse".
Let's first start by simply saying I am at a huge disadvantage by simply attempting to relay my thoughts and overall pleasure of this new Amorphis album. Just like the last In Flames record I feel as though I'm at a total loss for words. How can you describe a sunset to a blind man? How do you explain to a lifelong New York city resident the sights and smells of autumn in the Blue Ridge mountains of Southwest Virginia? Without the proper poetic expression it is nearly impossible. That is what I'm challenged with in explaining to you the material found on this new record, this amazing and beloved gem that shines with so much illumination and clarity. "Eclipse" is a window to the soul, a moving, emotional ride that gathers everyone who hears it into perfect harmony and love for the spirit of the song. Amorphis have reached deep into their creative reservoir, really taking their craft upon higher peaks of musical worship. This is truly a band that has no boundaries, no limits, and absolutely no restraints or binds of talent and craft. It is all on dazzling display, a whirlwind of musical perfection that few bands and musicians can even fathom. This is extraordinary, this is absolutely amazing. This is the spirit of song, captured in all of its stunning glory.
At one point Finland's Amorphis crept into my obscure watch zone, really showing me things musically that few bands could even attempt. With albums like "Tales From The Thousand Lakes" and "Elegy", Amorphis proved to the world that they were "that really interesting" band that put on sights and sounds that have never, ever been done before. Think of a moonlit night filled with the sounds of Hawkwind, Jethro Tull, Black Sabbath, Iron Maiden, and Pink Floyd. It is such an abstract thought, such a strange and completely odd combination of styles and elements. However Amorphis pull it off perfectly, in my opinion creating their own sound rich with identity and purpose. With the group's 1998 release, "Tuonela", I felt the musicians had finally went too far out there in search of diverse tactics and that all consuming need to be completely different. The band rebounded with a slightly more metallic approach with the 2001 release "Am Universum", and almost came back to the glorious roots of "Elegy" with their 2003 effort "Far From The Sun". Now lead singer Pasi Koskinen has left the group, replaced by Sinisthra singer Tomi Joutsen. Joutsen is the perfect asset for this band and proves it clearly and undeniably with his sensational performance on "Eclipse".
Finally Amorphis are on solid ground once again, really going beyond my expectations by entering that sacred chamber to hone their craft. With "Eclipse" the group find themselves deeply rooted in the mystic sounds of "Elegy" and "Tales From The Thousand Lakes". The band have created stirring, stunning visuals through music, injecting their cold climate and frosty Finland bite into these Northern tales of heartbreak and despair. While many songs create that somber mood perfect for the most dreary of sunless days, other tracks here are somewhat pleasant in their purpose and planning. Longtime fans will obviously miss the strong vocals of Koskinen, but Joutsen steps in and really leads this group back to those obscure, breath taking ventures. As I write and write and write I cannot possibly explain to you, the hopeful listener, just how amazing these songs are. This is a wonder, a real highlight for the band and the fan, and the best Amorphis album to date. "Eclipse" is beyond words for me. It is simply a need and a must for every type of music fan inhabiting planet E. Oxygen, Nourishment, Amorphis--the only three musts of this free world.
--EC 03.15.06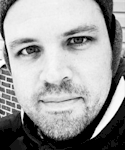 About this Writer:
Eric Compton
// Eric Compton lives in the most haunted city in the world, St. Augustine, Florida with his family and two yorkies. He has served as senior editor for MaximumMetal.com for nearly 10 years and is the author of the heavy metal book series--Denim & Letters. His reviews, interviews and social commentary has been featured on websites like Brave Words, Blabbermouth, Metal Temple, Metal Rules, Ultimate Metal, Metal Maniacs and Wikipedia.
Maximum Metal Rating Legend - Click for Full Details
All reviews for this band:
---
Interviews found from this band:
| | | | |
| --- | --- | --- | --- |
| INTERVIEW | BAND | INTERVIEWER | DATE |
---
You may also like: