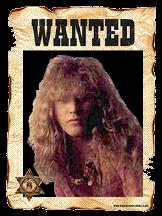 Few vocalists can leave behind a signature sound that can never be reproduced. Paul Stanley's party hard vocal stance will never be borrowed. One will never pull off Axl Rose's gruff, charismatic voice. David Lee Roth's style, fashion and stage prescence will never be used as comparison.

The same can be said for little known Danish singer Leon Goewie.

Leon Goewie cut his teeth with a fantastic hard rock stable called Vengeance. Vengeance were a cult Holland band that never really got the big break they were looking for. Forming in 1983, the band put out one demo and played only once live before major label Sony Holland signed the act.

In 1984 the band put out their self titled debut record with some small success. Fronted by the flamboyant Goewie, the group performed some wild stage shows in support of the release. Backed by the band's tight and precise rock and roll attack, singer Leon Goewie took the stage show to new heights. Balancing glasses of beer on his head, the energetic frontman was completely over the top, lending the perfect hard rock voice to the band's party hard lyrics and reputation.

Goewie went on to put his signature stamp on 1985's "We Have Ways To Make You Rock", 1987's "Take It Or Leave It", and 1989's "Arabia". Despite a fan following and good press, the band never got a major deal in the states. Iron Maiden's management showed interest in Goewie and the group, but plans fell through.

In 1991, friction within the band led to the firing of Goewie. He returned to the hard rock world in 1995 with his new band Stonewashed. With the release of their self titled record, "Way Of Thorns", the band focused more on heaviness and groove than catchy rock numbers. Shortly before the release of "Way Of Thorns" the band changed their name to Way Of Thorns. Some copies of the album even have Stonewashed on the disc.

Vengeance asked Goewie to rejoin their ranks in 1997 to record a reunion album. "Back From Flight 19" was the fifth record to feature the singer, with the band's prior album fronted by Ian Perry.
Leon Goewie left the band shortly after the recording of the reunion record.

He has never been seen or heard of again.

Goewie's enigmatic stage prescence and trademark vocal style is certainly missed. He is one talented individual that certainly could have been a household name.


---
Update: The following press release is from MTM Music & Publishing:

Dutch Metal band VENGEANCE was snapped up by CBS Records after company A&R men witnessed their debut gig in 1983. The group had formed earlier that year following guitarist Arjen Lucassen's departure from the ranks of BODINE. Lucassen was joined in the first incarnation of VENGEANCE by vocalist Leon Goewie, second guitarist Oscar Hollmann, bassist Jan Bijlsma and drummer Matt Oligschlager. The group released their self-titled debut album in July 1984, folllowing it up with the quite stunning 'We Have Ways To Make You Rock' album a year later. This second album found new drummer John Snels in the band.

Hollmann had departed by the third album, 1987's more groove laden 'Take It Or Leave It', and was superseded by Peter Verschurren. The band added another guitarist, Jan Somers, prior to recording 'Arabia' in 1988. Although successful in mainland Europe, VENGEANCE limited themselves to a couple of club dates in Britain to promote 'Arabia' in 1989 and Leon Goewie left in 1990 to be replaced with British vocalist IAN PARRY, formerly a member of AIRRACE.

Parry's work with VENGEANCE didn't pass unnoticed as the compilation album, 'The Last Teardrops 1984-1992', features six songs recorded with the singer. 1994's Japanese only 'The Last Of The Fallen Heroes' also included some of the material recorded with Parry. It was during 1994 that the group eventually called it a day and Ian went on to release three solo albums, whilst Leon Goewie - the man he replaced - turned up fronting German outfit CORACKO. By 1995 this group had evolved into STONEWASHED.

During 1997 a resurrected VENGEANCE offered the world a brand new album, 'Back From Flight 19' (a reference to the squadron of US planes that had disappeared in the Bermuda Triangle), which saw a return to the ranks for Goewie alongside Somers and Verschuren, complemented with new faces Barend Courbois on bass guitar, Roland Bakker on keyboards and drummer Paul Thissen.

VENGEANCE is now back with a "in your face rock album". The band feat. Leon Goewie, Barend Courbois, Michael Eurich (WARLOCK, CASANOVA), Michael Voss (SILVER, CASANOVA, MAD MAX) and as a very special guest founding member Arjen Lucassen on guitar and Mat Sinner (SINNER, PRIMAL FEAR) for background vocals! The band will perform the BANG YOUR HEAD Festival in June this year, feat. Arjen Lucassen!

Tracklist:
01. Back In The Ring
02. No Mercy
03. Mind Over Matter
04. Captain Moonlight
05. Holy Water
06. Bad Attitude
07. Had Enough
08. Now And Then
09. Cowboy Song
10. Rip It Off
11. Evelyn

Line-up:
Leon Goewie - Vocals
Barend Courbois - Bass
Hans In'T Zandt - Drums
Peter "Slash" Bourbon - Guitars
Michael Voss – additional Guitars, Keyboards, Background Vocals (SILVER, CASANOVA)
Michael Eurich – Drums on "Rip It Off" (WARLOCK, CASANOVA)
Wolf Hoffmann - Lead Guitars on "Mind Over Matter"
Arjen Lucassen - Lead Guitars on "Captain Moonlight"
Mat Sinner - Backing Vocals

In regards to the new album the members say:

Loen Goewie: " It's a straight to the point no nonsense album. A piece you can relay on .It's Gonne bring you back in times where everybody was rocking and banging like a bunch of crazy mother fuckers. A flat in the face this is what you get album. You like it or not - there's nothing in between! It rocks like it used to be. Rock from the bottom of your soul. We have chosen the title "Back In The Ring" because old rockers never die! Old classic rockers are back - back in the ring! The music gives you the feeling of a knockout!"

Leon continues and explains their comeback reasons: "I always had the feeling that something was not ready. So when MTM gave us the chance to finish a job we started almost 25 years ago. We grabbed it right by the balls. And I think we just started and there much more to come!"

Barend Courbois: "Everything ok over there, I would like to make some comments about the fantastic new album!

When I was with Casanova (the band from my long term friend Michael Voss) on a Spain tour in the beginning of last year , I got the idea of working with Leon Goewie again and bringing Holland's finest hard-rock band Vengeance back to live.
Couple of weeks later I had to substitute the original bass-player for Casanova again but now in good old England, I ask Michael can you help me (Michael and Vengeance played together during a big Bonfire/Vengeance tour late 80) and was pleased to produce the whole comeback CD.

Within a couple of month we got the record deal with MTM. Michael, Leon and me started working and later on we ad different guest players, we worked hard, had a great time, and the whole process was super relaxed. And here we are : Back in the ring again. We got a great live line-up and Leon is still one of Europe's best singers/frontmen, and he is ready to let you scream your ball's off !!!!!!!!!!!!"

Press-feedback so far:

"A terrific comeback album, rocking even more than their cornerstone ARABIA!" (Metal Hammer)
"Finally, a comeback making sense and packed with fun! The Dutch rockers didn't forget anything. Back in the ring - back with a vengeance" (Rock Hard)
"The comeback of the year" (Break Out)
"VENGEANCE are back in the spotlight with a fresh 'Rock 'n' roll shower'." (Heavy)