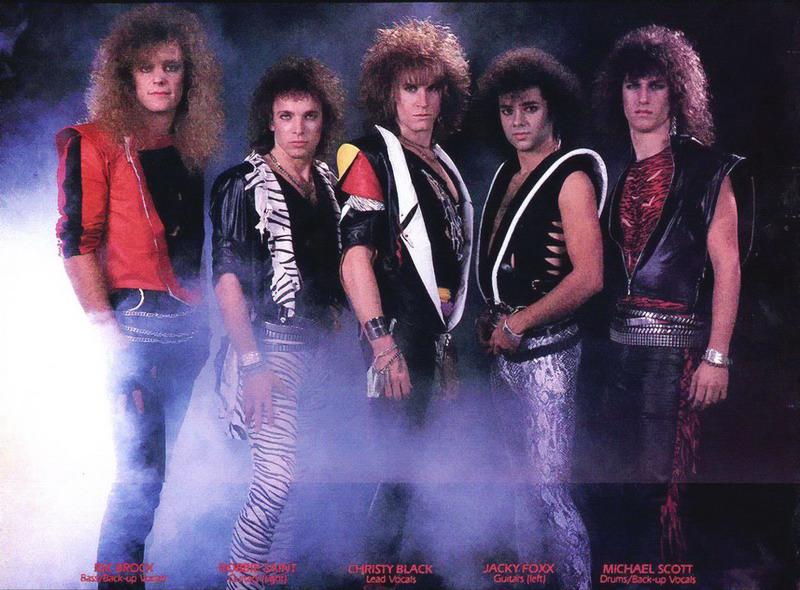 We all know how great 1984 was, with so many great bands releasing CLASSIC albums during that time. A little known band that released a real gem during this year was Missouri act Vyper, not to be confused with pre-Angra band Viper from Brazil. This American act managed to release one killer record before disappearing from the scene. The band is far gone from the minds and hearts of metal fans world-wide, in fact it wasn't until I discovered their LP at my local flea market that I even knew about the group. For $2.00 I walked away with a still sealed copy of their one and only record entitled "Prepared To Strike". Where they are now and if they recorded anymore material is anyone's guess.

Where Are You Vyper?

The band consisted of Michael Scott (drums), Robbie Saint (guitars), Jacky Foxx (guitars), Christy Black (vocals), and Rik Brock (bass). Contrary to popular belief the band is led by a male singer, at least from my vantage point hearing the voice and seeing the hair on Christy Black's chest. For the "Prepared To Strike" album the band members are completely decked out in the normal early '80s attire...spandex, leather pants, aqua-net hair, and of course ribbons and ties on their arms, wrists, heads, and cut off jackets. One look at the band immediately brings to mind the old wrestling tag-team The Rock 'N Roll Express. The album was released by Greenworld Records and produced by Eric "Griffy" Greif for Kondor Recording and Production. I believe at one point Greenworld was a part of Capitol Records.

"Prepared To Strike" recalls "Turbo" era Judas Priest crossed with the meanstreak sounds of the sunset strip. At times I'm reminded of Ratt crossed with the arena sounds of Keel. On opener "I'm Not Waiting" you can hear those driving Dokken riffs, while a song like "She's Nasty" is filled with the mischief and sexual seduction of KISS or Motley Crue. The album shows off a good sense of AOR on "Cold As Stone" and "Can't Stop Dreamin'". My favorite cuts are the fast-tempo romps like "Dealer" (think "Defenders Of The Faith" era Priest) and "Runnin' With The Pack". Vyper show off a real metallic understanding of early '80s hard rock, complete with big solos, a big drum sound, and effective, soulful vocals from Black. The highlight of the record is the atmospheric, eerie ballad "Nighttime Is Wild", a sorrowful tale of vengeance and retribution complete with the warning of "Nighttime is wild, so don't bring your child to the park". While the LP version only had ten cuts, the cassette release contained two extra cuts, "Daddy's Girl" and "Go Down Rockin'".

The end result is another quality band that somehow got picked over during those commercial rock days. Vyper fell through the same crack as other notable underdogs such as First Strike, Dagger, and 'D Priest. If anyone can share any info regarding the band, their current whereabouts, or any other releases from the group it would be greatly appreciated.