"Upon seeing the black disc I had an instant revelation to play it the first time in complete darkness. I popped the disc in, surprisingly ignoring the booklet and turned the lights off."
I can remember the release for Paradise Lost's "Draconian Times" so vividly, as if it happened just yesterday instead of a long eighteen years ago. The hype this thing had going in was just amazing to me, so many online articles and paper zines were firmly establishing the English band as not only a successor to the throne but as the kings themselves based on the merit of "Icon" in 1993.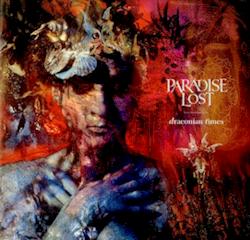 I can recall reading about the album for the first time at a local bookstore in 1994. At the age of seventeen I couldn't afford to buy the magazine but I spent a good twenty minutes reading and re-reading the same article that championed Paradise Lost as the next big thing and an obvious successor to the Metallica throne. The critics were harping that Metallica's comeback in "Load" was a pale comparison of the former Bay Area giants and that "Draconian Times" would be the "black album" that Metallica failed to make. Keep in mind that this sort of talk often involved some new band and their release as the album that Metallica refused to make (Dearly Beheaded and Sentenced were both groomed to be huge players and it never came to fruition).

Back in the 90s you could hear 10-20 second snippets of .wav files on various websites and newsgroups and I can remember surfing (and suffering) for days to find some nugget of "Draconian Times" to latch onto. I had no luck and by June of 1995 the record hit Europe courtesy of Music For Nations. Being in the US simply meant you had to import a copy through some poor sap at a record store who had no idea that this circular piece of plastic was the only reason to rise and exist each day. I ordered mine in July through a mom and pop called "The Record Exchange" which simply meant you put a $5 deposit down and by some act of kindness of whatever random God you prayed to it would arrive in one to six months.

During the ninety day wait for my copy to arrive the press (what little there was domestically) had reported the album had sold a million plus worldwide and "Draconian Times" was indeed everything we had hoped and planned for. It had received positive reviews and captured a 90s band that critics and fans both seemed infatuated with. I had purchased the Metal Maniacs zine that featured the band and I can still remember the spread of the long haired Brits standing in front of a black wrought iron fence and a huge puddle of water reflecting their image. Years later I discovered this was from a promo video they did for "The Last Time". I took the magazine to a factory job and showcased my idols to a few mop-headed metal fans. One guy dismissed it as "never heard of 'em" while another said they couldn't be as good as Slayer. Another "in the know" metal fan agreed with me that this could be the greatest band that has ever stood in front of a wrought iron fence. I continued to play my "Icon" disc and anxiously awaited the day that my "Draconian Times" docked stateside.

It was cold on a late September day and my father and I were working on some home improvement project for a lady about an hour away from home. I remember arriving home around dark and pulling the message off the answering machine..."Hi, it is here. Please come get it so you will leave us alone". "The Record Exchange" was as tickled as me to intercept this rare import. As I was out the door with keys in hand I was already planning the loud trip back home in my truck. Just before I exited the house my father asked if he could ride with me since it was dark and "heavy traffic" in our small town. The idea of jamming London's best kept secret to Americans was quickly evaporated due to the presence of a parent in the car.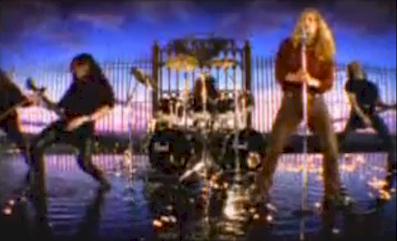 Greatest band that has ever stood in front of a wrought iron fence?


Needless to say I eventually secured my copy and held a firm grip on its shrink wrapped goodness until I got home. I took it to my home away from home, a Magnavox disc player that had new technology--an LED that displayed track times and something apparently important called DAC Bitstream Conversion. Upon seeing the black disc I had an instant revelation to play it the first time in complete darkness.

I popped the disc in, surprisingly ignoring the booklet and turned the lights off. With my KOSS headphones the privilege of an English import was music to my ears. I can remember the soft piano notes of opener "Enchantment" and Charles Manson's spoken words on "Forever Failure". The mammoth grooves and Holmes' soulful yet defiant vocals combined to create one of the most exciting moments of my metal history and a fond recollection to this day.

At the time I may have bought into the hype of Paradise Lost, and while I still think that seventy percent was valid, I actually find their later albums just as good. The group obviously had a downswing in their efforts in the late 90s and early 00s but overall this act have managed an incredible career loaded with amazing songs and solid albums. "Draconian Times" probably didn't sell a million copies at the time, something Canadian journalist Martin Popoff disputes as well in his "Collectors Guide To Metal", but the idea of these Gothic metal superstars saturating the mainstream world with their brand of dark music was inspiring to me. I still cherish the recording and consider it a top ten album on my top ten list that consistently has forty to fifty top ten albums on it on any given day of the week. Still "Draconian Times" remains the go to album when the need for Paradise Lost arises. The record is adored by fans worldwide and certainly an important release in the poverty ridden 90s as well as now, nearly eighteen years later.

Personal Notes and Musings:

- An older friend got this CD through a mail order company. His first listen to it was on a "boom box" on the kitchen table to the horror of his newlywed wife and newborn baby.

- Around 1996 I met a friend of a friend who had moved to the US from London. He was a second cousin to the then drummer of Paradise Lost Lee Morris. I was promised an autograph. I am still waiting.

- Relativity eventually released "Draconian Times" a year later stateside via Relativity Records. If I had just waited an extra nine months I could have saved that extra $6 in import price. Live and learn.